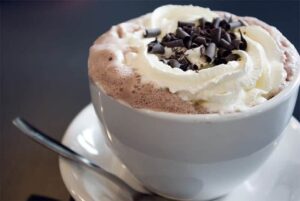 It's getting brisk out there and many of us want nothing more than to get home in the evenings and snuggle with a throw on the sofa sipping on a hot cup of something. Here are five of our favorite and easy to make fall drinks:
Warm Spiced Cider
In a pot, heat apple cider mixed with some orange peels, cinnamon stick, a pinch of nutmeg and allspice. Adjust the ingredient proportions to your taste. Simmer for 15 minutes. Filter out the orange peel and cinnamon sticks and serve.
Ginger Tea
In a pot, heat some water, fresh grated ginger and a dash of sugar. Simmer for 10 minutes and save any extras in the fridge. Not only will it warm your insides but this anti-inflammatory immune booster also helps ward off or shorten colds.
Fall Lemonade
This recipe proves that lemonade is not just a summer drink. Boil some water, squeeze a whole lemon in and mix with sugar. Drop in a cinnamon stick if you wish and we guarantee you'll love this cold-weather version of hot-weather favorite.
Hot Cranberry Cider
In a pot, heat apple cider, cranberry juice, brown sugar, sliced lemons, a cinnamon stick and some whole allspice. Simmer for 15 minutes. Filter out the lemons and cinnamon and serve.
Mexican Hot Chocolate
If you've never paired chili and chocolate together, you are in for a treat and a half. In a saucepan heat milk, then bring to a low simmer and whisk in cacao powder, sugar or honey, cinnamon, a few drops of vanilla and a pinch of chili. Top with whipped cream, if desired, sit by the window and watch the autumn leaves slowly make their way onto the concrete.