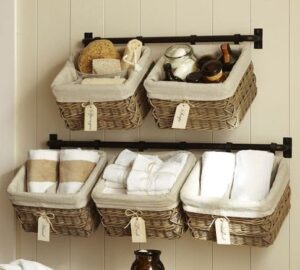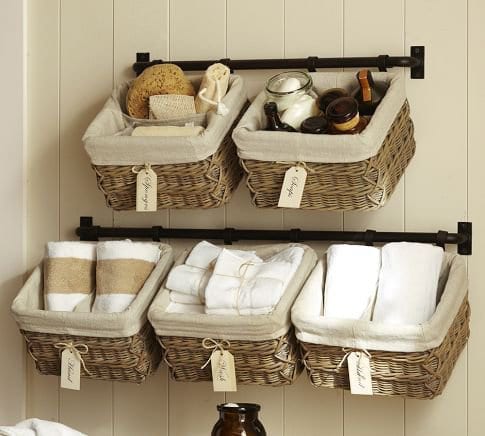 Photo by Wicker Paradise
Bathrooms are typically the smallest of rooms in a home. In a New York City apartment, however, they also lack the type of storage—such as closets, built-in hampers, various towel racks—found in suburban homes.  But there are ways to increase storage space in bathrooms so you can fit all your grooming items and even more. Here are some ideas:
Shelf between sink and mirror
That space between your sink and mirror is a great place to mount a small shelf to store things you use everyday.  You can also squeeze in a decorative item, like a candle or a small vase of flowers.
Behind the door
Mount hooks and towel racks behind the bathroom door. It's an otherwise unused, and nicely hidden space.
On the toilet
Baskets and small boxes can easily fit on the toilet and house things, like hairbrushes and clips and makeup that might look messy on the counter or a shelf.
Above the door
We love shelves above doors, not just in bathrooms but in any room. These shelves are great for items that you might not need everyday as they tend to require a step stool to reach—think extra shampoo bottles, toilet papers and such.
Sink area
Install magnetic strips around the sink area to hold scissors, tweezers, bobby pins and anything else that's metal.
Walls
Use extra wall space to hang baskets directly on the wall. You can use the baskets to store extra towels, toilet paper, and such. Not only will the baskets store a whole lot but they also will make your bathroom look cozy.
Under the sink
We all utilize the cabinet under our sinks; we just don't always utilize it efficiently. Instead of just placing a bunch of hairspray and a hair dryer in the cabinet, organize it with drawers and or shelves. Don't forget you can mount hooks and other such things to the inside of the cabinet door also.
The floor
Don't forget the bathroom floor can house a magazine rack, a toilet paper holder or even a basket to hold towels and such.
Shower area
Your shower area is a premium space to put up shelves and hooks to hold all your bathing items—shampoos, conditioners, razors, puffs and such.