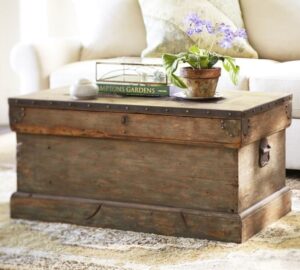 Photo source:  potterybarn.com
Coffee tables are a necessity of most living rooms—they anchor the space and make the room look polished. They're also extremely useful, we use them to put our books, phones, drinks, and sometimes feet on—shhhhh, don't tell anyone. But we can take their usefulness even further by finding ones that function as storage furniture as well. This will allow New Yorkers perpetually seeking more space find yet another way to get more out of a piece of furniture. Here are five coffee tables we think do a great job at playing double duty:
Rebecca Trunk
At a reasonable $699, this hardwood trunk with its colorful patina—which works fabulously as a table—is a beauty. The metal edge banding and details make this piece look reclaimed or even an original snagged at a flea market. The inside offers generous space for storing anything from throws and sweaters to books, magazines and more.
The Printmaker's Coffee table     
This architectural beauty from Restoration Hardware comes in three finishes and several sizes and for anyone who's ever worked in or visited an engineer or architect's office is reminiscent of blueprints and maps. Store remotes, magazines and artwork in the four drawers of this piece, which starts at $1,095.
Chiva Functional Coffee Table
For the more modern home, BoConcept's Chiva, which starts at $1,159 and comes in several finishes sports three separate compartments which when opened could also function as table tops that could function as dining surfaced.
LIATORP
With a shelf and storage space underneath the glass tabletop, this Ikea number's $279 price tag is anything but steep. The table comes in grey or white and is an easy solution to store magazines and remotes and even decorative items which could transform the top into a display case.
Industrial Storage Coffee Table
This solid mango wood rustic table with steel legs from West Elm is a steal at either $599 or $699, depending on the finish. Its pop-up door reveals enough storage for books, toys, magazines and nick knacks and can also be used as a taller tabletop where one could pull up a chair to and work at.