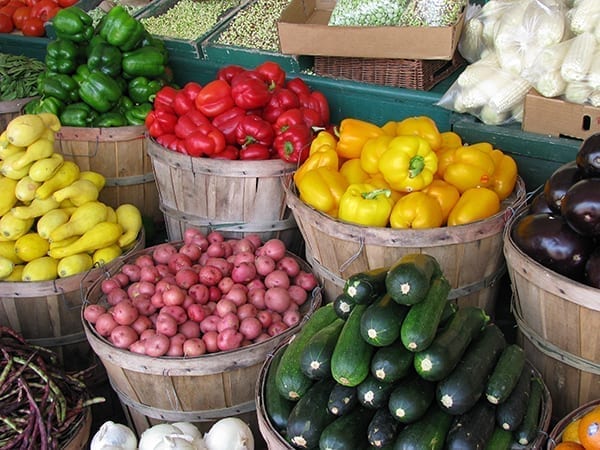 New York City boasts more than 50 greenmarkets locations within its five boroughs. And now that the weather is finally allowing for things to grow, these urban farmer's stands are bustling again. If you like eating local and in season and adore the fresh taste of just picked fruit or vegetables, head on over to the market this weekend. Here's how to find one nearby and what to buy once you get there:
Locate the nearest market
Greenmarkets dot neighborhoods in Manhattan, Brooklyn, Queens, Bronx and Staten Island. If you're lucky the market sets up in your area and you can likely walk to it. If not, don't worry, as there'll be one a short subway ride away. Use Grow NYC's website to locate the closest greenmarket and find out the hours and days they set up.  And if you live across the river, fear not, New Jersey has its own community of farmer's markets. Locate one near you and get jersey fresh!
Early bird gets the farm goods
Supermarkets often have a storeroom that holds an abundance of supplies to replenish when the shelves are empty. Greenmarkets on the other hand have a limited supply of items they bring in with them from the farm. For that reason, as the day unfolds, popular staples like eggs often run out. The earlier you get to the market, the better choices you'll have.
What to buy
With the exception of potatoes and apples, which are likely leftovers from last year's harvest, most of the items being sold at greenmarkets are fresh and just picked.  Right now, you'll especially find fantastic asparagus, arugula, spring onions and garlic, nettle, parsley, radishes, rhubarb and strawberries to name a few items. When in doubt, ask the seller if the item is fresh or particularly good—their recommendations rarely disappoint.
Store
If you buy for a few days or a week, the fruit and veggies should keep with no issues. As a general rule, however, for best taste, don't refrigerate tomatoes, peaches and apricots and store all your vegetables and herbs in the fridge crisper. Remember to take cucumbers and squash out of plastic bags and not to wash herbs until you're about to use them.
Bon appétit
There's nothing better than fresh, unprocessed food that's been grown nearby. Enjoy this time of abundance and peruse the Internet for recipes of herbs and veggies that you've never used before. Remember variety is the spice of life and a healthy diet. And if you're feeling especially inclined, maybe buy some potted herbs at the market and grow something of your own.