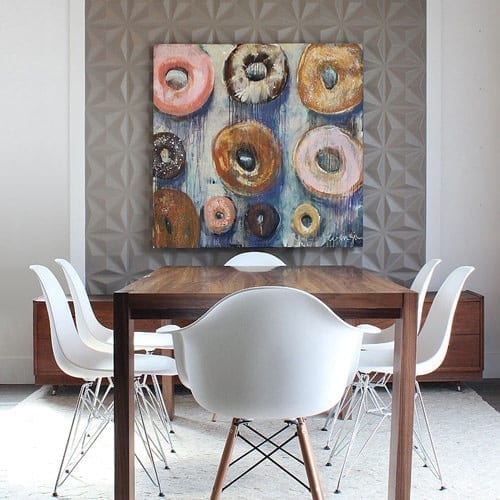 Nothing says "just moved in" more than empty walls. If you're still storing your artwork and pictures on the floor or under the bed, it's time to hang them on your walls and give your space a little personality. We are well aware, however, that there's an element of stress when deciding where each piece should go and how to hang it properly. Do you group frames together? Should you center? How high should the frames go?  How do you secure the pieces so they don't come crashing down to their demise? Fear not, we have some tips that'll make even the most novice of art displayers look like pros:
Arrange on the floor
If you're putting up more than one piece, arrange them on the floor to see what combination works. You can stack, stagger or cluster frames in a set.  Go with your gut and what you like. You're the one who will be looking at it most of the time anyway.
Hold it up
Ask a friend to hold pieces up so you see what they look like once on the wall. This is especially helpful because sometimes the idea of a look is pleasing in our heads but not so once realized. It also allows you to see how pieces work with the rest of the décor in the vicinity.  If you're happy with the placement, mark it with a pencil so you know where your nails go.
Height
Decorating experts recommend hanging single pieces 58 to 60 inches off the floor. This places the artwork at eye level for easy viewing.  Find the vertical center of the piece and measure up from the floor.
If you are hanging several pieces together, treat them like one piece—find the center of the entire collection and place the group at the recommended height for hanging.
Give 'em  (the same) space
When hanging several frames on one wall, give an inch and a half to two inches between the pieces. Make sure you provide the same space between all the frames. This ensures a harmonious look.
Dress rehearsal
Try the pieces out before you put them up. Trace each frame on cardboard or craft paper and tape the mockups to the wall to ensure you like the look and scale of everything before you begin making holes.
Hanging
Determine the weight of your pieces and use picture hangers specified to handle that much mass. For a more secure system, use two hangers. Bonus: This helps keep your frames level so when that city bus goes by and the walls shake, the pictures don't become crooked.  Use a level to guarantee you're putting the hangers in a straight line.
Mix 'n match
While it's a visually clean look to have all the frames be the same size and style, it's also interesting to place next to each other pieces that look different. This could mean frames of different materials, colors and sizes or other art such as decorative plates, mirrors, or wall sculptures.
Have fun
Much like fashion, decorating is about having fun. These rules take some of the guesswork out of hanging artwork but by no means should they dictate your style. If you prefer, think outside the (guide)lines and hang your pictures in a way that makes you smile each time you look around in your new home.