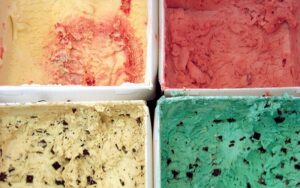 Summertime is ice cream time. What other treat is cold and sweet and instantly transports us back to childhood? Yeah, nothing else comes to mind. Luckily, New York is dotted with shops serving our favorite dairy delicacy.  Yes, we call it a delicacy because, frankly with all the things these gourmet shops and parlors are doing, the frozen treat has become just that. So where should you go to get the best, creamiest and most original flavors? Here's the scoop on five of our favorite spots to give yourself the ultimate brain freeze:
You've likely seen their buttery trucks rolling around the city spreading scoops of joy to New Yorkers. These guys use just a handful of ingredients to make their dairy (and vegan-friendly, non-dairy) delights in small batches out of their Greenpoint, Brooklyn headquarters. If you haven't had their ice cream, don't walk, run—cause you'll want to start a cardio regimen after this as we're pretty sure you'll be addicted.
Ample Hills Creamery
You gotta love an ice cream brand whose name comes from a Walt Whitman poem, right? In 2008, the two-person team behind the treat started a parlor in Brooklyn Heights hoping to build a community through ice cream. That seemed to have worked because now, Ample Hills has a couple more locations. The brand offers staple flavors plus some nutty combinations like their potato chip, pretzels, ritz crackers and mini m&m ice cream.
Big Gay Ice Cream
This is for all the softies out there! Big Gay serves old-school soft serve with a twist—think vanilla ice cream, dulce de leche, sea salt and chocolate chip (that's salty pimp to all of you ordering). To try what is considered by USA Today as one of the best ice cream parlors in the world, visit their East or West Village location.
These guys are creative—black pepper strawberry, saffron passion fruit and cream cheese and carrot cake are just some of the flavors they've offered. Using locally sourced, hormone-free and on location pasteurized dairy, Odd Fellows offers rotating conventional and unconventional ice cream and sorbet flavors. What's more is that for every ice cream sold, they'll donate 5 cents to the Food Bank of New York City. So grab your wallet and head on over to their Williamsburg, Brooklyn location or their East Village outpost.
This little gem in the lower east side is a laboratory, of, ready for this, gelato. Everything is handmade on location from local and in season goodness and the alternating flavors are out of this world. Think tarragon, lavender honey, toasted white sesame and beet. Also, the guy who started this place knows gelato—he was the founder of Ciao Bella. Are you convinced yet? Go, go go! Now. Seriously.