New York City kitchens are often small. In fact, many are called kitchenettes to disclose their diminutive nature. The catch is that as the heart of a home, the kitchen needs to house many essentials. Even a lean kitchen contains numerous gadgets and cooking utensils making it imperative to make these small spaces work for its inhabitants.  So we've come up with some storage tricks to help make the most of your tiny urban kitchens:
Hooks
These hardware items are a space maker's best friend. Hang pots, pans, strainers, oven mitts and even mugs from hooks. Not only will it make it easy to easily grab items in a hurry but utilizing these metal magic workers also opens up some space in the drawers and cupboards.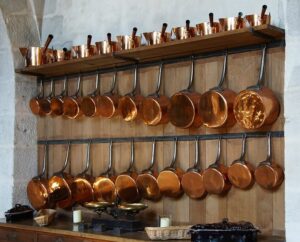 Magnetic Strips
Like hooks, magnetic strips can take items from the cupboards to the walls. These nifty bars can be used to store knives, scissors, and other metal objects. Specialty ones made to hold spices are also available.
Open Shelves
Shelves are always a favorite solution for creating more space. They don't take any valuable footprint but even one shelf can hold numerous items. Consider using a shelf or two for holding cookbooks, bowls and other visually interesting items.
Floor Space  
Use a magazine rack or basket to hold your cutting boards and other flat but large items.
Go High
If available, use the space above cabinets and on top of the refrigerator to store items you don't regularly use. You can use containers and baskets that compliment your cabinets to keep smaller items hidden and to create a cohesive look that goes with the rest of the kitchen. For example, for white modern cabinets you might want to consider simple white containers, which on a first glance appear as though they are part of the intended kitchen design.
Divide and Conquer
Create more space in your cabinets by dividing them horizontally or vertically. Sturdy dividers are available in different materials, heights and widths to allow you to take what's essentially a box inside your cabinet and customize it to your needs, giving you more room for dishes, pots and pans and even cans of food.