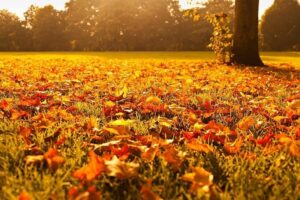 Fall foliage is upon us and within an hour's drive you can spot leaves just starting to turn lovely hues of red, yellow and brown. There are many close-by spots you can visit to bask in the beauty of this kaleidoscopic nature show and step on withering leaves for your own amusement but we're going to recommend one place in particular, mainly because you've been saying you want to check it out since the day you moved to New York. Yes, fellow city dweller, this is the year you are going to Storm King Arts Center and this is the year you, too, will finally post a photo of your reflection in that mirror fence on instagram like all your friends who've had a jolly old time rolling on the hills of the 500-acre park while you re-watched the first season of Orange is the New Black. It's time to get off the sofa, my friend.
Sitting in the town of New Windsor, New York in the Lower Hudson Valley, Storm King features more than 100 sculptures created by some of the most famous names in art, such as Louise Bourgeois, Richard Serra and well some 98 other folks. The sculptures dotting this mammoth piece of land tend to be ginormous, colorful and impressive.
But if art is not your thing, just enjoy the sweeping backdrops of hills, woods, field of wheat and your own reflection in the creek. Or just observe the changing color of the trees—according to the New York fall foliage report, the peak foliage time for the region is the last two weeks in October. You can walk this outdoor museum or if it's too intimidating to cover such ground, rent bicycles or take a tram. Then have some eatings or find a quiet spot to take a nap on the grass.
You can reach Storm King by driving, taking Metro North and then a taxi or taking a Coach USA bus from Port Authority direct to the center. The bus will run you $46 but includes transportation to and from, admissions and a tour. For $55, you can add on an option to visit Woodbury Commons on your way back—you know for art, foliage and a new purse!