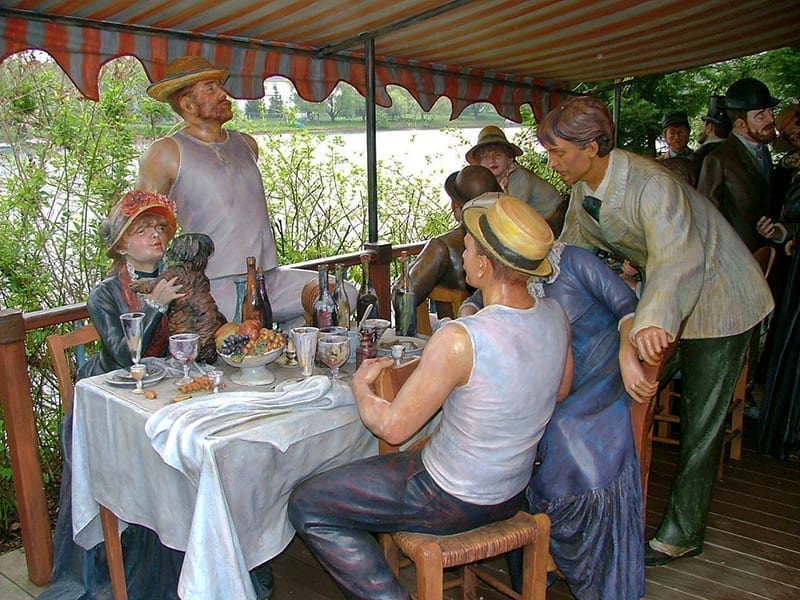 Seward Johnson, Were You Invited , 2001 Photo by Paul VanDerWerf
Summer is coming to a close and high on our list of inspiring and slightly secret—at least to many New Yorkers—places to visit, is a 42-acre sculpture garden in Hamilton, New Jersey.  Grounds for Sculpture combines carefully planned gardens with an ever-changing collection of some 260 contemporary outdoor sculptures by both emerging and established artists. The non-profit also boasts six indoor galleries that feature alternating exhibits.
As you walk the meticulously kept grounds, you'll notice the park's founder and artist J. Seward Johnson's work rooted throughout: Impressionist paintings are presented in life-sized, three-dimensional displays that combine natural surroundings and elements with man-made objects.  You can walk on a Japanese style footbridge, overlooking a small water lily pond; immersing yourself into a scenary much like the one Claude Monet had created for himself at Giverny. Viewers can also mingle with the diner's of Renoir's famed Were You Invited painting presented as a full-scale tableau, a rare departure from the world of museums where art is to be looked at and not touched. At Grounds for Sculpture, it's encouraged to immerse oneself into the art and experience it intimately.
Explore a bit more and discover abstract works in steel and stone, among other materials, peppered throughout the gardens or view special exhibits housed in the galleries—ranging from sculptures made of recycled Kraft paper to seductive metal pieces.
And when you tire of sculptures, unleash your inner child and perhaps uncover a secret door in the shrubbery that'll lead to a little private enclave complete with a hammock and pillow waiting for you. Take a book and maybe a nap if you will.  Then walk around some more and we promise you'll keep discovering, because that's the purpose of the park, to stumble upon art, to find a muse or to simply enjoy the surroundings. Finally, the grounds offers four dining options but it's Rat's Restaurant on everyone's radar. The eatery features country French cuisine in a whimsical setting but then again we think the entire park's setting is rather whimsical.