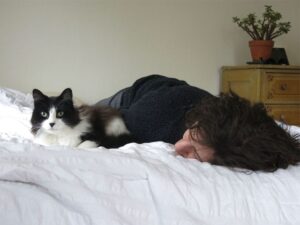 Furry friends are the best: They are wonderful companions, super cute and love you unconditionally, well at least dogs do. The trouble with cats and dogs is they come with a lot of baggage and we're talking literal, not emotional, ones. And in our tiny city apartments, their food, toys, beds and nick knacks take up precious real estate. To keep your pet items organized, we've rounded up some ideas:
Hide the Litter Box
The biggest complaint of most cat owners has to be dealing with the litter box. What if you could disguise the kitty potty inside a piece of furniture you can actually use? Take any sturdy basket, side table or small cabinet large enough to fit the cat box and remove a wall for your pet to access. You can use the surface while kitty uses the interior. It's a win-win. And, if you're not comfortable making a litter box concealer yourself, look for one at pet stores or online.
Murphy Bed
Now you see the dog bed, now you don't. Believe it or not, you can find small cabinets that stow pet sleeping pads. Search the Internet for one that suits your home style, budget and fits your pet. If you're the handy type, you can even build one. These pet murphy beds conceal yet another pet eyesore.
Food Cabinets
No, we don't mean the kind you put your pasta and quinoa in. We're talking a cabinet dedicated to your pet's food, accessories and bowls. The compartments inside will have a large dedicated space to store food, hooks on the outside for collars and such and a drawer that pulls out revealing feeding bowls. It's kind of an ingenious feeding station.
Door Hooks
Place hooks behind closet doors to hang collars, tags, and pet clothes. Keeping these things out of sight helps your home look put together.
Baskets
A cute basket is a perfect place to store your pet's toys. Your furry one can still access their beloved stuffed animal and you can easily tidy up when you don't want to see the five things he or she has spread in the room. And if you want, you can personalize the basket with your pet's name. Oh Internet. Is there anything you're not capable of?