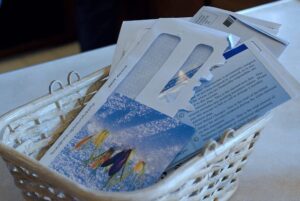 This photo courtesy of Brittany Lynne Photography and is part of the "365 Ways to Live Cheap Revisited" project.
We don't know about you but we get a ton of mail each day—most of which is junk—and it often takes us a week or two to sort, organize and store the never-ending incoming flood of paper. Hence, the mail just piles up into a messy installation on a counter or table, turning our otherwise tidy places into a mess. Luckily, there are ways to contain the disarray. Here are some products we like that do just that:
Wire Baskets
These wire baskets from Crate and Barrel can be used to put away the mail until you can get to it. Use one to store all incoming mail or multiples to catalogue and organize as you see fit.
Vintage Metal Stacking Bins
These industrial-style bins from Restoration Hardware baby & child—available in galvanized or white—can be stacked to easily sort incoming, outgoing and junk mail.
Vintage Entryway Organizer
The mango wood organizer from Ballard Designs is suitable for larger households or those who are looking to stay super tidy. With two drawers and eight cubbies, menus, mail, keys and pens each household member and item get their own dedicated spot.
2D3D Letter Holder
Those looking for a more modern look, can go for this letter holder from Blu Dot, which has a simple silhouette and is available in Fire Engine Red, Gun Metal and White.
Mudroom Message Center
This Martha Stewart Living organizer, which comes in white, sequoia or black and has a chalkboard, a corkboard, mail tray, small hooks for keys and larger ones for purses and whatever else one wants to hang.
Vintage
There are many vintage, repurposed and handmade mail holders. Browse flea markets and antique shops or find them online at places like Etsy. You're likely to find something uber cute and unique.