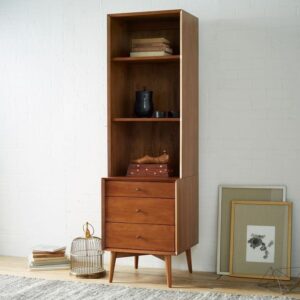 Photo via West Elm
Books, we love them but we hate storing them, especially in small apartments. In come freestanding bookcases, easily moveable, practical and often beautiful decorative pieces of furniture for the home. Here are several that we love and think work well for storing your favorite titles:
v bookcase-room divider
We literally stopped driving the first time we saw this number in CB2's in the window. The solid teak v bookcase with its angular shelves is quite the beauty. Although it's marketed as a room divider, you can easily put it against a wall. Either way, you won't be disappointed and your guests are sure to ask you where it came from.
Sapien Bookcase
This all-metal DWR bookcase comes in two sizes and colors and can accommodate 50 to 70 books depending on the height option. The books sit horizontally and once fully loaded look as though they're resting on top of each other. What's great about these guys is that they have a very small footprint, which makes them easy to move and fit in in different corners of a home and perfect for New York apartments.
Stairway white 96″ wall mounted bookcase
Here's another bookcase from CB2 that makes our list. One reason we love the Stairway is its height. At 96 inches, it maximizes vertical space while making a ceiling appear taller by drawing the eyes upwards. Use this wall-mounted bookcase to display books and other decorative items.
Dutch Industrial Shelving
This industrial looking shelving unit from Restoration Hardware comes in two sizes and sports a distressed, industrial look. Starting at nearly $1,000, these units are not cheap, but their real counterparts can go for a lot more at antique shops.
Mid-Century Bookcases
For those seeking a Mid-Century look, this acorn-finished West Elm piece with drawers is a handsome option. Thanks to its small profile and footprint, it's easily moveable around the apartment and at $698 it's likely to cost you a lot less than an original 50s or 60s piece.