New York kitchens (can we even call 'em that?) are tiny and borderline non-existent. Counter space is scarce and there are very little cupboards we can use for storage.  Essential cookware like pots and pans are especially guilty when it comes to eating up room. But if you think outside the box (or cupboard) there are some ways to get around your typical storage shortcomings. Here are a few tips:
Towel Bars
Install towel bars or even curtain rods on a kitchen or dining room wall and hang your pots and pans using curtain hooks or something similar. If you want to get creative, you can use in-between hooks to hang art, hand towels or oven mitts.
Hooks
Same idea as the towel bar but here you can install hooks on the wall. This gives you a little more leeway in terms of scattering your cookware up and down on a wall or an alcove.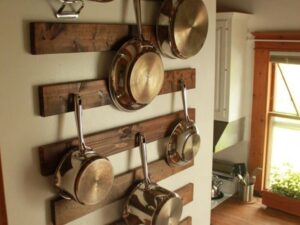 Hanging Pot Rack
These racks that hang from the ceiling are especially nice for kitchens that have a little island. They're easy to install, can hold most of what New Yorkers need and have a dramatic "I'm a chef" effect. And who doesn't want to look all fancy?
Cart
A cart is an easy way to add some space to the kitchen and store pots and pans in. Find ones that have several levels or shelves. And if you need to add floor space for a party or serious cooking you can temporarily roll it out.
Pull Out Organizer
These in-cabinet pull outs help you see what's in the back and stay organized, in turn giving you better access and more control to better use up the space.  Look for ones designed for pots and pans that have lid holders.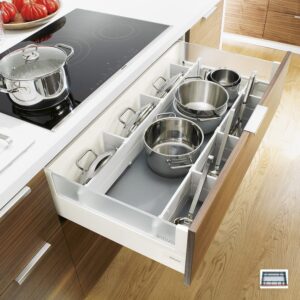 Credenza
A credenza in the living room might be a great place to store the cookware you might not regularly use. Though it seems like a pain to have these outside the kitchen area, we all know how close everything is in New York apartments.