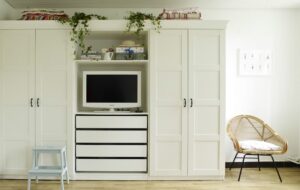 Photo via ikea.com
In cities such as New York, apartments aren't always typical. That's because they were often factories, homes or offices cut into several homes. The result, while quirky and at times beautiful, isn't always practical and sometimes the inhabitants of the home miss out on useful features such as closets. But there's no reason you have to miss out on a place to store your clothes. Here are some solutions for people without closets:
Wardrobes
In America, we're used to built-ins but in many other countries wardrobes are the only to go. So here in the country of New York, getting standalone closets are a good way to store and organize your clothing, accessories and shoes. One system we really like is the customizable PAX—complete with drawers and accessories—from Ikea but there are many other options to fit different tastes and budgets.
Garment Racks        
One or two garment standalone racks can take the place of a closet. They are moveable and get-riddable if you change your mind or change apartments. The downside to this is you have to stay neat for the arrangement to look good (though you can purchase covers, such as this one). The upside is if you're the neat type and choose a pretty rack system it could enhance the décor of the room and add a bit of personality.
Wall-mounted Clothes Bar
Wall mounted bars give a more finished and built in look to an open closet. Hardware stores carry different options that could take over an entire wall. You can also opt for ones that hang in a corner and use several above one another, which take up less horizontal space. This one from CB2 is a particularly handsome one that adds a bit of style.
Built-Ins
If you're set on having a built in, take an area of the room—be it a wall or corner—and actually either build one yourself or talk to a contractor to do the work for you. You can have walls moved or added to accommodate such an addition.