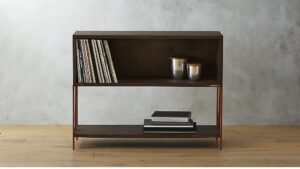 CB2 Record Cabinet-Console
Vinyl is all the rage again—isn't it funny how vintage stuff keeps coming back?—and everyone and their roommates seem to have record players, at least here in New York. The problem is unlike those lovely mp3s, which just take up virtual space, records take up quite a bit of room. So how do you find proper storage to fit them into your small apartment while enjoying their wonderfully warm sound? Get yourself a nice holder—here are some options:
Dean record cabinet-console
Okay, so at $649 this unit from CB2 is not cheap but it is a beauty and if you can shell out the dough will nicely hold coffee table books on the shelf below and a record player on the surface.
Draper Media Console
With a name that's a nod to Mad Men this vintage looking console from urban outfitters will remind you of the mid-century décor of the 1960s. The best part though is you can store your vinyl on the adjustable shelves, place the record player on a dedicated space and use the sliding board to hide the messy side of the storage.
LP Record Tabletop Storage
This tabletop record cabinet by Gothic Furniture is for those looking for a smaller or modular solution to record storage. Each unit can hold 300 LPs. Use it alone or side-by-side in multiples.
Alexander Vinyl Storage Rack
This acacia wood piece is another winner from Urban Outfitters. It can 50 of your favorite records, has a small footprint and just looks gorgeous. It's also only $89.
Custom or Handmade
You don't have to stick to the big stores to find a record holder that suits your needs. Look for handmade or vintage items at flea markets, second hand or antique stores or online sites like ebay or Etsy and you can score something like this black walnut beauty.