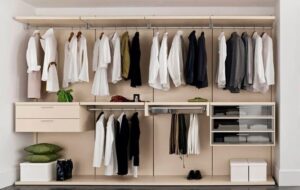 If your closet is out of control and you're running short on storage, this post is for you. When you think of it, organizing an unruly closet seems like the most horrifying and time consuming organizational task. But if you take it one step at a time and just utilize our tips, you can gain control of the wilderness that contains your clothes. Here are some simple ways to achieve a neater wardrobe.
Hangers
If your clothes hanger types are all over place, invest in some uniform hangers. Ideally, opt for thin, velvety hangers that, not only keep your clothes in better shape but also take much less space.
Shelves
Either mount or use freestanding shelves low or high in the closet. Lower shelves can be used to store shoes and shelves that go above the clothes rod are great to put away items like purses and hats.
Baskets
The best way to store small knickknacks like scarves, gloves, and even jewelry is to contain them. Use baskets to keep accessories organized and easily accessible.
Drawer Units
Freestanding drawer units are common and come in different materials and sizes. Find one that fits your needs and use it in the closet to keep things like sweaters organized.
Lighting
Believe it or not, proper lighting will help you keep your closet neat. Because if you can't see portions of a space, how can you ever put things in their place? Invest in a battery operated or motion sensor light—easily installable even by the most novices of handy men and women.