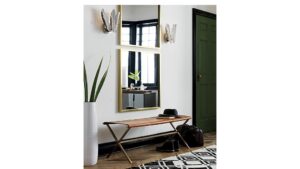 CB2 Leather Bench
Entryways are nice, they are a transition area between the outside and inside worlds—a place to take off shoes, put down the mail, hang the keys and pretty much get ready to enter or exit a home. But not all homes have this space, especially New York City ones, and many of us open the front door to end up directly in the middle of the living area. There are, however, ways to create an entry area, which function as a welcoming center of sorts and could also function as storage:
Bench
A bench, even a small one, creates an area to sit on for putting on or taking off shoes, or for placing the mail or a bag on. It also creates a space to gives you pause before entering the home.
Hooks
If you have no floor space for furniture, give yourself some storage with wall hooks. Hang coats, keys, umbrellas, bags and much more. A hook per person who lives at the apartment is a good way to go, with an extra one or two for potential guests.
Rug
Rugs are great at separating spaces. Add an area rug to delineate the entryway. This creates the illusion that you do have a hallway, even if you don't. Because it's all about visual tricks, isn't it?
Bookcase
Outline an entry way with a bookcase—this especially works for doors that open up to the living room or kitchen. A thin bookcase won't take up too much room but is sure to make you feel like you have an entrance of sorts.
Coat Rack
If you don't have space for a bench, a coat rack is a nice way to define a corner and give yourself and your guests a place to hang their coats and hats. Its small footprint will ensure you don't dedicate too much floor space to this piece of furniture.