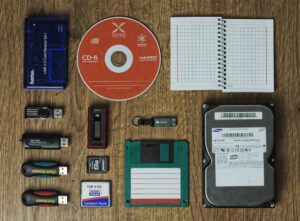 We often focus on storage in New York for physical items but given today's reliance on technology it's important to know how to back up and store data as well. This is especially important as computers can crash and are vulnerable to Ransomeware—where hackers will lock your data and demand a ransom in order to release your files back to you.  No matter the reasons, we encourage everyone to store their electronic data periodically in more than one place and here are some ways to do so:
External Hard Drive
With external drives, you can either manually back up data or use the computer's automatic processes for doing so—for Mac computers, you can set Time Machine to do this, for PC's you can use Windows Backup.
Online
There are many different online services which allow you to store your data on their servers. The one you choose depends on the level of comfort you have with their security (remember the iCloud breach in 2014?), cost and options. Some notable services are Google Drive, Apple's iCloud or Carbonite.  Similar to an external drive, you can automate the backup process.
Flash Drive
These nifty, thumb sized storage drives have come a long way. Nowadays you can get them with up to a Terabyte capacity.  But for most folks a 256 Megabyte will be enough to store thousands of files and photos. They can be good backups to your backups. Because, it's really important to save your most important data in multiple places.
Computer
If you have multiple computers in a home, you can always save copies of your most important files on different machines. This way, if one fails, the other can serve as a backup.