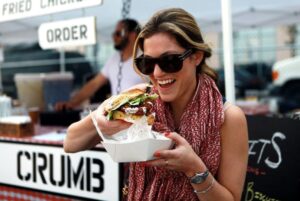 The unofficial beginning of summer is around the corner and it's one of the best times to be in New York City, mostly because like many other holidays, it's quiet. For those of us who inhabit this great city on regular days with millions of others, it's nice to have a good portion of them out of town. So what to do if you're staying around? Here are a few ideas:
Eat at Smogasburg
It's a flea market for food and it's so freaking good—a gastronomer's heaven of sorts. Think ramen burgers, tacos, decadent doughnuts, and Japanese water cake (yeah that's a thing and all the rage). Head on over to either the Williamsburg or Prospect Park location (depending on which weekend day you plan your visit) and enjoy tasting different foods under hopefully rays of sun.
Have a Picnic
Life can be a picnic, at least for a few hours. Lucky for us, our city has a lot of green space—from Central Park to Transmitter Park to many more. Pack yourself a basket or a tote bag and read a book, snack a little and take a nap.
Have a Drink  
Pick a rooftop or a sidewalk bar, sip on something you enjoy and people watch, or not. It's your day.
See a Flick
Enjoy the semi-empty theatres and catch a flick in the evening—you know you've been meaning to see a few new movies lately and just haven't been able to take the time off.
Walk a Bridge
Be it the Brooklyn, George Washington or Manhattan bridge—you know you've been meaning to, so get up and do the touristy thing and you'll see why millions come from all over the world to cross our city's surrounding waters.