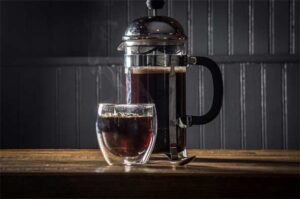 If you're the kind of person who likes whipping up meals in the kitchen, you've at some point spent a bit of time staring at the windows of Sur La Table, Williams Sonoma and the likes. In your fantasy, you have a large kitchen with lots of gadgets and goodies for preparing gourmet meals. In reality, you live in a small New York City apartment and have a kitchenette. So you need to be careful how you use cabinet and counter space and to that end must be diligent about the tools and utensils you'll bring in. Here are four kitchen items that don't take much room and ones you'll definitely get a lot of use out of:
Immersion Blender
Out with the traditional space takers and in with the immersion blenders. These handy sticks, which can be stored in a drawer, perform the functions of a regular blender. Get different attachments for them and you can even whip up smoothies with these babies.
French Press
If you live in the city, you don't have room for a big coffee maker on your counter. Give that monster to a friend in the suburbs blessed with a large kitchen and get yourself a French Press sized suitable to your household—you can get one small enough to make just one cup of Joe.
Manual Can Opener
Most folks don't really need a big fancy can opener. A hand held manual opener can be stored away in a drawer and will open cans just as well any sophisticated tool.
Citrus Reamer
This little utensil is one that is super handy but takes up little storage space. Use it to juice limes, lemons and other small citrus fruit—though we've even used it to juice a grapefruit or two.