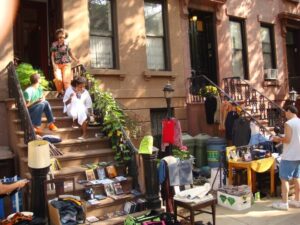 Whether you're de-cluttering, moving or just not interested in storing some of your items any longer, a stoop sale might just be your ticket. For those that aren't familiar with the term or are city newbies, stoop sales are urban versions of what's known in the suburbs or the country as garage or tag sales. To have a successful stoop sale, it's good to have a plan and lucky for you we have some guidelines to help:
Make a List
Prepare a list of items you will be selling and how much you plan to charge for each one. This list helps you have a strategy and will also be your guide on the day of the sale as an inventory and price sheet.
Pick a Date
Weekends are obvious candidates for stoop sales. Check the forecast to see what the weather will be on a particular day and if it looks to be a pleasant one your chances of foot traffic will be higher.
Advertise
Once you pick a date email your friends and family and let them know the location, date and time of the sale. Use your social media to let your other contacts know. To advertise to strangers post the info on classified sites like Craigslist. Be sure to include the description and maybe photos of a few choice items that could woo customers.  Also, post signs around the neighborhood with arrows directing folks to your sale.
Think of Product Placement
Have a plan of where each item will go. Decide if you'll need display tables, hangers and such to showcase your goods.
Get Change
Small bills and coins will come in handy when you're making a sale. Sometimes not having enough change will mean your potential customer will walk away as they don't want to deal with the hassle of breaking larger bills at a nearby store.
Have a Plan for Leftovers
Be it renting a storage unit, tossing or donating the items that didn't sell, be sure you know what you'll do with the leftovers after the sale.
Have Fun
At the end of the day, having a stoop sale is part of the New York City experience so plan to have fun. Maybe ask friends to stop by and hang out or make it a day to people watch. Either way, it's a day outside!