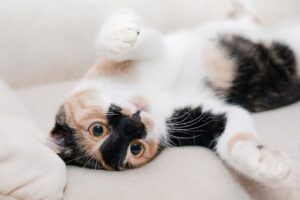 We love our furry feline friends, but we don't always love their litter pans—typically unattractive plastic boxes that stick out like sore thumbs in the confines of a New York City dwelling.  For those reasons we've decided to round up some of our favorite litter box hiders which can house the kitty potty and look attractive in a small apartment. Here's our list:
Modern Cat Designs Litter Box Hider
This is probably our favorite of the bunch. It's made of laminate, comes in a brown wood color and white, hides a litter box beautifully and fits contemporary designs very nicely.
Merry Pet White Hooded Litter Box
This side table, nightstand looking hider looks best in homes that have a more country or shabby chic feel.  It fits larger litter boxes and comes with a shelf and a towel bar, which means extra storage for things like books, remote controls or your kitty's toys or other supplies.
The MINI Cabinet
The priciest of the bunch, this side-table and litter hider has a walnut finish. It can be customized to have a pet entrance on either side of the cabinet. So once you decide where it's going and where you'll be getting $475 to buy this with, you can let the manufacturers know where to cut the hole for your furry friend.
Kitty Condo Bench
This MDF hider is also a bench—which can work nicely in an entryway. With a hole for chords in the back, it can work well for automated litter boxes. The unit provides ample space inside for extra storage and you can have the cat entrance on either side depending on your preference