The New York City Department of Sanitation has recently rolled out its Compost Project, aimed at reducing waste citywide. Almost one third of the waste that the department collects is organic material—food scraps, spoiled food and plant material. With this program, people can now biodegrade organic waste instead of throwing it into a landfill. Composting helps put organic material where it belongs—back into the environment.
The Department of Sanitation, which will serve more than three million New Yorkers with curbside organic service by the end of this year, will provide bins for your building once enrolled in the program.
Of course, you need to keep your organic waste in a separate bin in the home before transferring it to the one on the street. With our tiny apartments it's important to find bins that fit and look good and won't compromise too much counter or storage space. Here are some options of compact and nice looking ones that we like: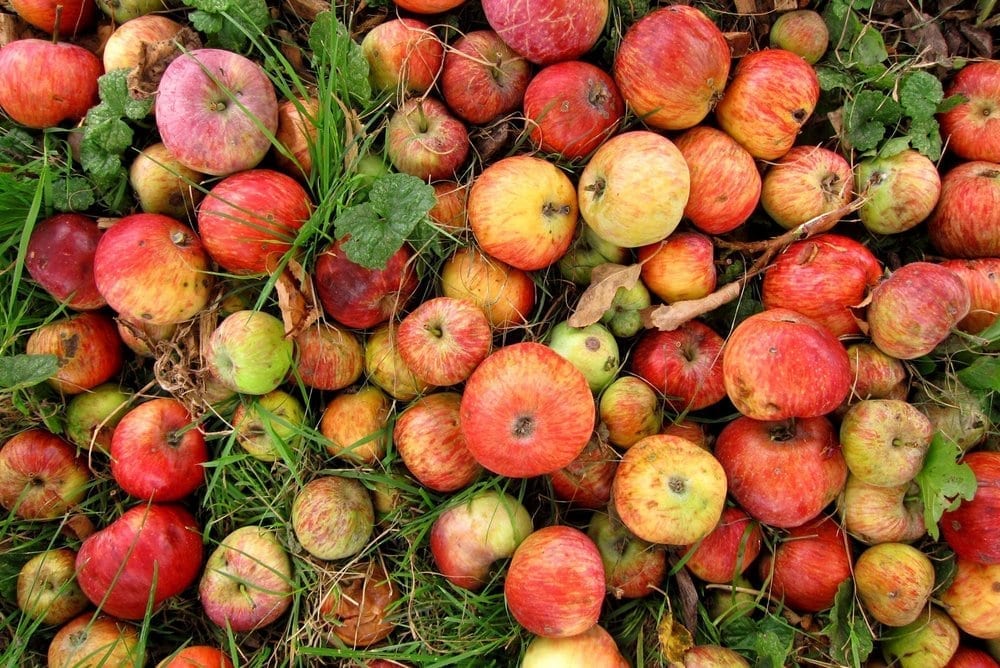 Credit: Bill Lowe Gallery
Stainless-Steel Compost Pail
This one one-gallon pail from Williams Sonoma fits nicely on the countertop, perfect for a small kitchen or kitchenette. It holds scraps like vegetables or peels that you might otherwise throw away while keeping odors at bay with its charcoal filter. It comes in white enamel steel or brushed stainless steel, a set of replacement filter and retails for $39.95.
Typhoon Summer House Blue Compost Caddy,
We love the look of t vintage styles 2.6-Quart Capacity compost bin made of color-coated steel—just look at the Summer House Blue.  Similar to the one mentioned above, it also contains a carbon filter to absorb odors. Its tight lid also helps keep odors in while keeping flies out. The Typhoon comes with a plastic liner, which you can easily take out and clean when needed. And at $34.99, this caddy is comparable in price to its competitors.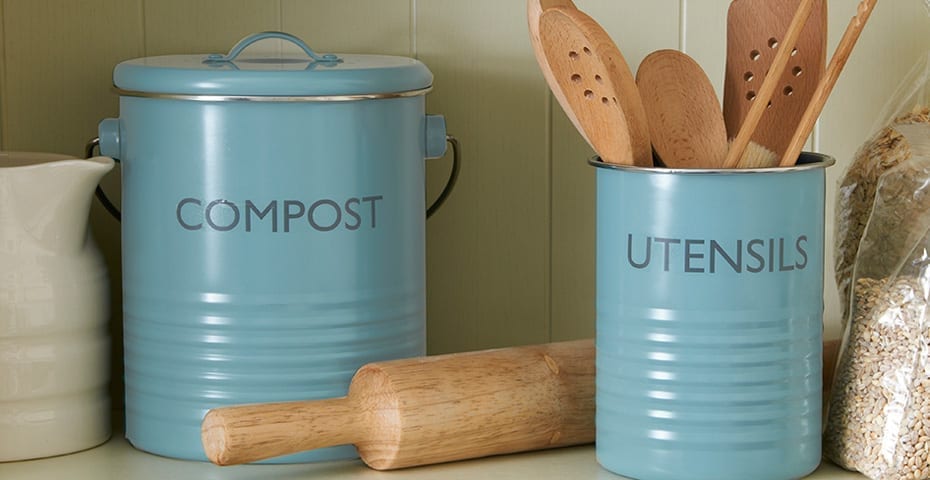 Epica Stainless Steel Compost Bin
This 1.3-gallon bin is the number one best selling indoor compost bin on Amazon, so you know it has to be good. It's also currently on sale for $22.95, though it typically retails for $34.95, so grab one while you can. Molded from a single piece of metal, this rust resistant, stainless steel composter is built so it won't crack or chip. Similar to other composters, it comes with a replaceable carbon filter and a tight lid to keep odors under control.
Noaway Countertop Compost Bin
If you're looking for something more discreet, and are willing to pay for it, this salvaged wood number from Cliff Spencer is the way to go. Made of wood that would otherwise go into a landfill, these mitered boxes add warmth to kitchen counters. Each box sports a stainless steel lid and pan that holds your organic waste.  At $175, this compost bin will set you back some dough but sometimes that's the price of beauty.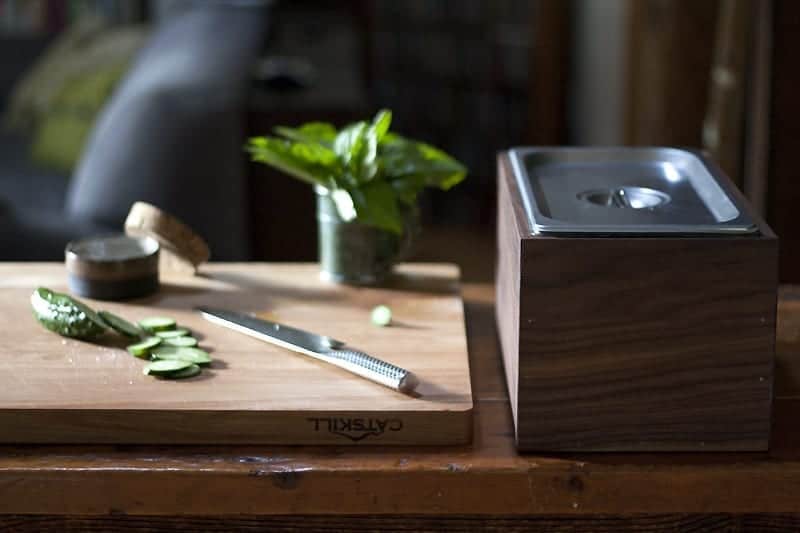 Kitchen Compost Caddy
If you prefer to keep your compost system out of plain sight, you might want to look at a system that can be mounted under the sink. This caddy has a double seal lid that ensures flies don't have a way in and odors don't have a way out. Furthermore, its carbon filters work to minimize odors. This number might not be especially pretty, but who cares, as you will hardly lay eyes on it.  The Kitchen Compost Caddy retails for $46.70 and is available on Amazon.
RSVP 4.5 Quart Square Bamboo Compost Pail
Here's another handsome looking compost pail. Made with bamboo and boxy lines, this $39.99 bin will not look like others in the category. Similar to many other bins, this indoor composter comes with a plastic liner for easy cleaning and a charcoal filter for minimizing odors.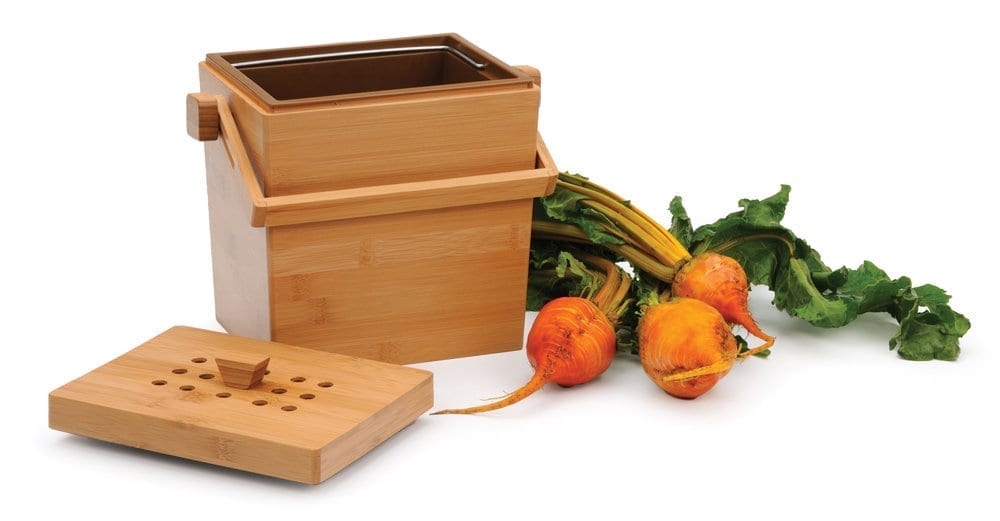 Blue Mason Jar Ceramic Compost Bin
At .79-gallon capacity, this bin is small but look at how cute the Mason jar is—they are still all the rage. Made of ceramic, this vintage-style compost bin is airtight, comes with a replaceable charcoal filter and sports a handle for transport. And its size, while maybe not large enough for some, means the jar can pretty much fit anywhere on the counters of many New York City kitchens. The Mason Jar Compost Bin costs $19.99 and is available on World Market.