Your child may have a wild and vivid imagination. Good to you for letting them play and experience the world through play and creativity.
At times, however, their toys tend to be in the way of daily activities for you. You may put them away, but they may still not be organized.
You don't have to let the stress of unorganization bring you down. We have the answer for cheap storage ideas for your children.
---
1. Tupperware or Ziplock bags
View this post on Instagram
For little things like puzzles, Legos, or dolls, use Tupperware or Ziplock baggies to hold items. Label what they are with a permanent marker so you know at a glance what's in the container.
2. Collection bucket
View this post on Instagram
If your staircase collects random toys, trinkets, and clothing, maybe a collection bucket is what you need. For two or more kids, write their name on the bucket (or let them decorate it) and place it on the staircase. When it comes time for something to go upstairs, put it in the bucket to take up later.
If company comes to visit, then easily transfer the bucket upstairs or to a closet for easy storage.
3. Soft closet organizer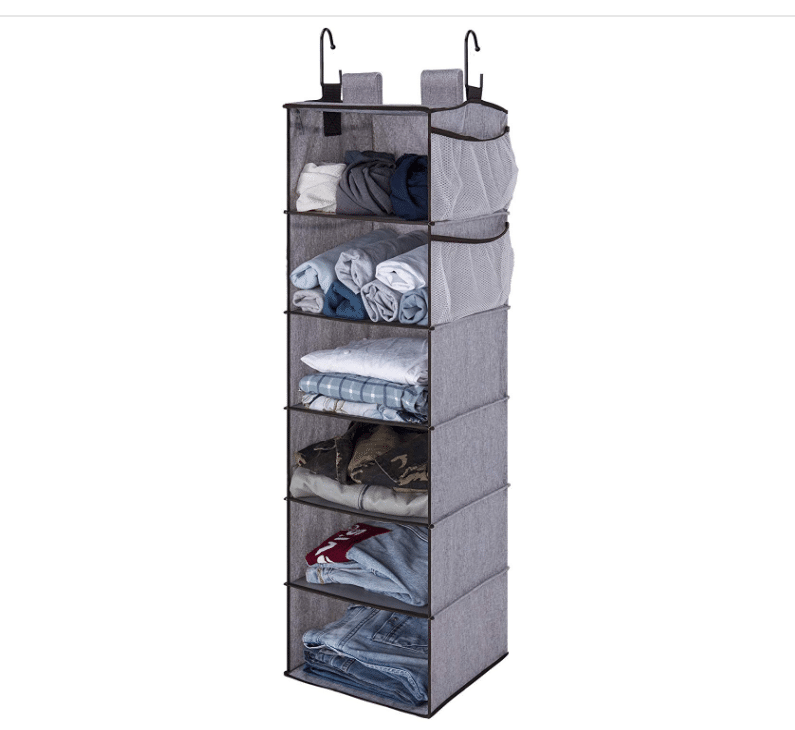 These easy-to-hang shelves are great for many things. Here's a quick list for some uses:
Hold games
Store shoes
Books (not too many)
Stuffed animals
Clothing
Toys
4. Shoe organizer
View this post on Instagram
Whether it's plastic or fabric, these shoe organizers are great for so many things.
Use it to store Barbies, Hot Wheels cars, stuffed animals, or shoes — if you want. The best part of using one of these is being able to close the door when it's not needed. Viola! It's hidden!
5. Small kitchen containers
View this post on Instagram
For that creative artist that has too many markers, Crayons, and colored pencils to count — this is the hack you need.
Find uniform kitchen storage containers (square ones are better for storing) that fit your child's coloring utensils. Containers with lids are better!
6. Bath storage rack
View this post on Instagram
For the little tots with bathtime toys, this hack will come in handy for you. Put up a shower rod and hang baskets from it. When bathtime comes, your kiddo can pull whatever toy they want. And they can help clean up when it's time to finish up.
7. Scarf rack
View this post on Instagram
Use a scarf rack for storing stuffed animals! Not only is it handly, but it's also cute.
8. Under the bed organizer
View this post on Instagram
Nothing beats organizing your home quite like having room under your bed for items. If your child's bed is raised, use the extra space below to hold toys and things.
9. Garage Bungee
View this post on Instagram
For the items that are in the garage, use a wood frame and Bungie cords to hold balls, sports, equipment, and other toys.
BONUS: Clothing hamper
View this post on Instagram
Use a clothing hamper to hold toys, stuffed animals, blankets, or books. Keep it in the closet to in the corner of the room.
---
Other resources to consider:
---
Contact Moishe's Self Storage if you're looking for cheap storage units in New York City to hold wine, art, or other things. Our Manhattan/The Bronx and Queens/Brooklyn Storage Facilities are conveniently located near you. We offer over 20 different storage unit sizes, available to individuals, students, and businesses. Reserve your room, view specials, or contact us.