Commercial Storage for Rent
The best commercial storage for rent is the commercial storage for rent that serves your storage needs. Too often facilities attempt to put customers in rooms that serve the company's coffers instead of the consumer's needs. Moishe's Self Storage is not in that business.
We're in the business of serving our customers to the needs that they require, not the profit that we would like. If you're curious as to the legitimacy of that statement, allow us to explain what our company is all about, and why we offer the best commercial storage for rent.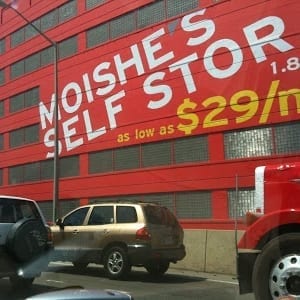 Moishe's Commercial Storage For Rent
Moishe's started with a man and his truck almost forty years ago. The entire company was built through the dedication to customer service, respect, and quality storage we have offered since then and now. We've grown to accommodate all types of commercial and residential rent storage.
As a result, we may be the most diverse commercial storage for rent in the country. Whatever you need stored, whether it's sensitive documents, organic property or otherwise we've got you covered.
We offer specialized storage for companies that need specification that don't come "out for the box," but every storage facility has a large amount of services most other facilities don't offer.
Moishe's Commercial Storage and More
Whatever you need we've got you covered. All you have to do to start storing with the premiere commercial storage facility in the country is call (800) 536-6564 and speak with a storage professional. Contact us online to start the inquiry process. You can also reserve your location online as well. Commercial storage is tough to find, so stop searching for self storage facilities near me and contact Moishe's today.