Controlled Self Storage
When you're looking for the city's best, most affordable self storage with the most security features on the market, look no further than Moishe's.  We offer the lowest prices on indoor storage.
We utilize CCTV recording cameras in every hallway of our storage.  Because NYC never sleeps, neither should security at your storage facility.  When you'd rather not trust your items in rent storage to the security of a simple lock that can be cut with a pair of bolt cutters, Moishe's has all the features you need to protect your belongings, no matter what.
The Most Security Features in Climate Controlled Storage
We utilize motion detectors, security checkpoints, state-of-the-art burglar alarms and the latest fire suppression technology.
Moishe's is NYC's leading storage provider for over 30 years.  That's why we realize storage security is so important.  It's part of our 100% customer satisfaction guarantee that we offer our high-tech security features at the same affordable cost as other climate controlled self storage facilities near me.  If you need self storage with the highest security features in NYC for affordable rates, call on Moishe's.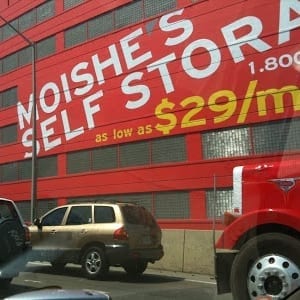 We Offer Free Pick Up Services to the 5 NYC Boroughs
If your home or office location is within the 5 boroughs, we offer free pick up, with a 3-month commitment, up to a 5×10' space.  Call (800) 536-6564 to arrange your free pick up today.  Our team of experienced NYC movers will drive one of our climate-controlled trucks to your location, load up your items and store them for you with us at no extra charge.
Why waste your time and effort loading a truck and unloading it yourself when our relocation experts will do the job for you, for free?  Your free pick up is available for new Moishe's customers.
Our customer satisfaction ratings are consistently high due to the efforts of our customer service oriented team.  From our account managers, security team, custodial staff and relocation experts, every Moishe's employee is here to assure your 100% customer satisfaction.
Let us know anytime of day or night, we are here to help at Moishe's.  Feel free to schedule a consultation with one of our account managers today.  Trust Moishe's today and find out why we are the city's leading storage provider for over 30 years.  With over 20 different storage size units, including customizable space, you're sure to find the perfect fit for all your storage needs at Moishe's.