Dorm Room Bike Storage
If you're seeking dorm room bike storage, chances are you want a small storage unit for an inexpensive price located near you.  As you know, affordable space is hard to find in NYC.
If you need a monthly unit to store your bike close to home or your office, Moishe's has the perfect solution for you.  We offer dorm room bike storage solutions as well as commercial and personal storage.
If you're used to storing your bike in public in the city, chances are you're fully aware how easy it is to break any type of lock and steal someone's bike.  We've all had it happen before, with many kinds of different locks.
No matter what different type of lock you try, they all promise to be 'unbreakable.'  You're probably shocked at first to find, one day after work, your bike is nowhere to be found.  That's where Moishe's Self Storage comes in.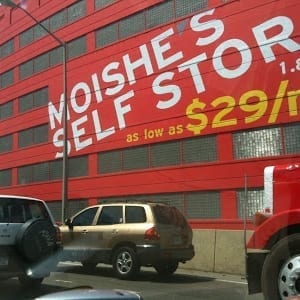 We Offer the Best Security Features for Dorm Room Bike Storage
At Moishe's, one of the main reasons we are NYC's premier storage provider is our 100% customer satisfaction guarantee.  Our service is customer-oriented, one of the reasons why we receive consistent 5-star ratings for over 30 years now.  Our customers store with us for an average of 4 years—the longest in the storage industry.
What we offer our customers in terms of security can't be beat at any other facility in the metro NY tri-state area.
If you come in late at night, you can request a security patrol to escort you to and from your unit door.  That's just part of our customer satisfaction guarantee.
Our account managers are available to assist you from 7AM-7PM and 8AM-5PM on weekdays.
Moishe's utilizes security checkpoints, motion detectors, state-of-the-art burglar alarms and the latest in fire suppression technology.  What other dorm room bike storage solutions guarantee your bike will be secure and safe from theft, no matter what?
Moishe's Industry-Leading Storage Standard
You won't find a more affordable, cleaner storage unit with more security features on the market in the city than here at Moishe's.  That's why we offer your 100% satisfaction guaranteed.
Feel free to stop by at your nearest Moishe's Self Storage location today and see for yourself what makes us the best the city has to offer.  Schedule a consultation today with one of our friendly account managers.  With over 20 different unit sizes to select from, including customizable spaces, you're sure to find the perfect dorm room bike storage solution at Moishe's.