Cleaning the home or apartment you're leaving FROM is not only kind for your next renter or owner, it's also sanitary. Do a quick wipe down and sweep to ensure they're entering a lovely clean home. Also, taking a moment to clean as you leave will reduce the likelihood of getting charged by an apartment company to clean your place.
If you're moving TO somewhere new, take an hour or so to do a deep clean before the furniture is moved in. You'll never have that much space to clean again!
---
---
1. All the essentials!
You'll need the essentials for cleaning before you move! Here's a list of the top tools to have on-hand:
Rubber or plastic gloves
Sponges for kitchen and bathroom
Brush (for the stubborn areas)
Toothbrush (for the hard-to-reach places)
Spray bottle (for chemical solution)
Paper towels
Microfiber cloth (for dusting and other cleaning)
Broom and dustpan
Small vacuum
Mop or Swiffer with disposable pads
Bucket for water
Magic eraser
A squeegee
Vinegar (for extra safe disinfecting cleaning)
Here are a few cleaning supplies to have on hand:
Disinfecting wipes
Toilet bowl cleaner
Hardwood cleaning spray
Foaming kitchen cleaner
Goo Gone
Glass cleaner
Here are the four types of cleaning chemicals available:
Detergents. Use for general household cleaning such as the kitchen.
Degreasers. These will help remove oil from the stove and oven.
Abrasives. This is a strong chemical, so use with care. In a home, only use in the bathroom.
Acids. This is the strongest chemical. Dilute according to instructions. Generally, only use on the worst surfaces such as rust.
AVOID lye cleaning agents. This can cause damage to eyes, skin, mouth, mucous membranes, throat, esophagus, and stomach. It could be fatal if swallowed.
2. Fill in nail holes
Before leaving an apartment, fill in the nail holes. You may need a spackle or putty knife. Here are a few ways to fill in the holes:
Spackling (the proper way). Put spackle in a nail hole and let dry before repainting. Here's a way to make a "spackle ghost" and tips on how to do it properly:
Wood Putty. This is probably the easiest way to do it. Use a spackle knife to apply it in the nail holes.
Ivory soap. This is the less than desirable way of doing it, but if you're in a pinch, soap will fill the hole if your walls are white.
Toothpaste. Similar to soap, this is your last option and will work if using white toothpaste and have white walls.
3. Don't scuff walls with a hammer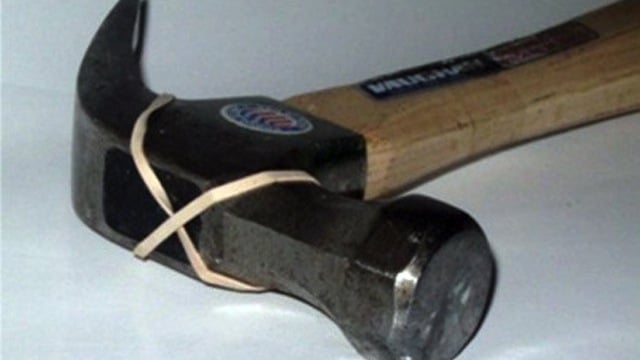 Put a rubber band as an "X" on top of the hammer to prevent it from scuffing the wall when taking nails out.
4. Get stains out of carpet
Use this simple recipe to extract stains from carpet:
A cup of warm tap water
1/2 teaspoon of dish soap (no more than this is needed)
2 table spoons of rubbing alcohol
Add to a spray bottle
Spray the stain and press with a spoon to set the chemicals. Use a shopvac (very important) to extract the stain from the carpet. Blotting with a towel is not effective. Also, do to scrub the carpet, this will further stain the area. Repeat as necessary.
Check out this example of using this recipe to take out shoe polish from carpet:
5. Remove furniture dents in the carpet
View this post on Instagram
A home hack not known by many is using ice cubes to raise carpet dents off the floor. The water will melt and expand the microfibers in the carpet. As they dry, they will revert back to their normal shape.
6. Clean hardwoods
View this post on Instagram
Sweep the area well then mix warm water and a few drops of castile soap or dish soap in a bucket. Use an old towel or mop to clean the floors. For extra cleaning, use an ounce of vinegar in the solution.
---
For the ultimate list of moving tips, check out our list of 143 Ways To Make Moving Easier For You, Kids, And Pets — With A Printable Version
---
Contact Moishe's Self Storage if you're looking for cheap storage units in New York City to hold wine, art, or other things. Our Manhattan/The Bronx and Queens/Brooklyn Storage Facilities are conveniently located near you. We offer over 20 different storage unit sizes, available to individuals, students, and businesses. Reserve your room, view specials, or contact us.
Consider other resources: