Where to Eat in Greenpoint, Brooklyn
With such a large Polish immigrant population, Greenpoint is popularly referred to as "Little Poland." Lucky for visitors and community members alike, the Polish influence provides an abundance of incredible restaurants that are full of authentic and well made delicacies. If you're planning on stopping by Greenpoint on your next trip to Brooklyn, definitely be sure to check out some of these enticing eateries.
Best Polish Restaurants in Greenpoint
If you're coming to Greenpoint, you're stepping into a vibrant Polish community. Be sure to take advantage of their worldly recipes! For meals almost as authentic as the real deal, check out these incredible Polish restaurants.

Karczma is such an authentically Polish restaurant that even their website is displayed in two languages – English or Polish. Opened in 2007 by Urszula & Slawek Letowski and Krzysztof Drzewiecki, the restaurant has been serving dishes from the homeland. Further, your food will be delivered to your table by waitresses dressed in traditional garb, while you are serenaded by Polish folk music.
Start your meal off with a bowl of White Borscht served in a warm bread bowl. Or split a serving of "Oscypek" with your friends. This highlander style smoked cheese is breaded, deep fried, and served with a tart cranberry sauce.
Their main dishes are a coterie of traditional fare, best shared family-style with your party. The Grilled Plate for Two features Polish kielbasa, pork shoulder, chicken breast, salmon, bacon, and blood sausage served with three dipping sauces. Or try the Plate of Polish Specialties, which includes perogies, potato pancakes, kielbasa, hunter's stew, and a serving of stuffed cabbage – all for just $14.
Finish your meal with a serving of Karczma's Crepes, which are filled with fresh fruits and cheeses.
Located at 136 Greenpoint Avenue, it's easy to find this charming restaurant. Take Subway G to Greenpoint Ave or take the East River Ferry to India Street and get ready for an authentic eating experience!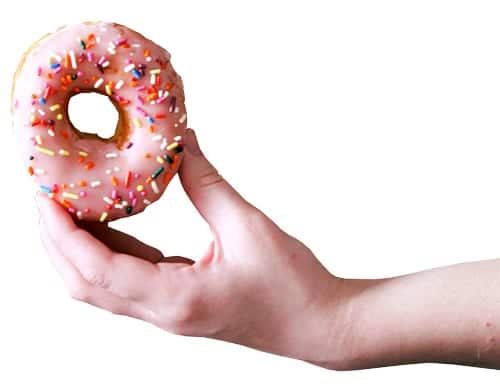 For six centuries, Greenpointians have been getting their Polish pastry fix at Peter Pan Donut Shop. Ranked as one of the top 11 donut shops in the nation, Peter Pan's has a certain way of making you feel like a kid again. Although the shop opens at 4:30 a.m. each morning and shutters at 8 p.m. every night, it's essentially a 24-hour operation. Fresh donuts are pulled from the fryers at 2 a.m., and as locals get off their overnight shifts, there is often a line forming as the doors open before dawn.
Unlike most restaurants, at Peter Pan's you don't have to face the agonizing decision of just picking one item off the menu. That's why the baker's dozen was invented. Choose among a selection of truly mouth-watering donuts like the Apple Crumb, French Toast Cake, Honey Dip Bowtie, or the Marbled Velvet Cruller. There are over 20 un-fussy varieties at this quaint bakery that you can enjoy while elbowing up to patrons on their s-shaped table. You'll feel like a local here!
Stop by their shop at 727 Manhattan Avenue or call them at 718-389-3676 to check what's fresh from the fryer.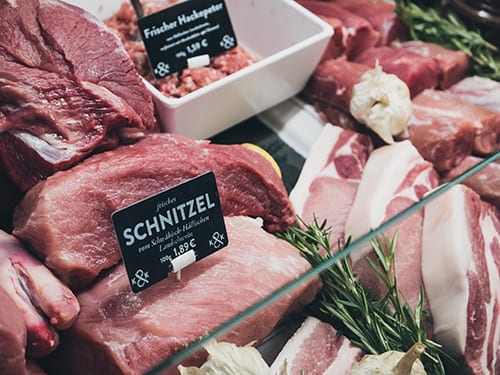 For forty years this family-run butcher shop has been a favorite among the traditional Polish businesses located in Greenpoint. While not technically a restaurant, it is still deserving of your attention. This cash-only establishment prides itself on offering quality Polish products like Golabki, Kabanosy, Kiszka, Hurka, and Polish Kielbasa. And those are just the different kinds of meats that they offer!
They also carry a line of imported Polish products like Borowik mushrooms, Polish cookies, crackers, candies, jams, soups, and pickles. Or pick up some fresh sour dough bread, Babka, apple and cheese cake, or Chrusciki for the road!
Nassau's Meat Market is located at the stop of Greenpoint Av.
---
Far Off Fare
Although the Polish influence is apparent in Greenpoint, it's not the only kind! The area is home to an array of different cultures which bring with them a vast repertoire of tasty dishes. Check out some of these restaurants for a taste of the world!
View this post on Instagram
Located within a refurbished 1860s glass factory, this modern Mediterranean restaurant boasts an expansive menu that includes everything from Apple and Pistachio Tabouli to Winter Pickles and Olives.
Middle Eastern inspired dishes grace the menu, whose recipes have been passed down through generations. Mixing tradition with contemporary techniques, diners are sure to enjoy dishes that are as thoughtful as they are flavorful. Sample a sumptuous lamb chop with sweetbreads and artichokes or nibble on the Pickled Pepper Pita filled with either lamb, chicken, or falafel. Pair any dish with their signature cocktails for a fun evening out.
View this post on Instagram
If you're craving a warm bowl of pasta paired with an oaky red wine, look no further than Le Fanfare. Operated by husband-and-wife duo Luca and Giorgia Fadda, Le Fanfare is an authentic Italian restaurant tucked at the end of Manhattan Avenue. Featuring elegant Italian cooking, live jazz music, and classic cocktails, it's the perfect place to come for a romantic night out.
The restaurant's philosophy is simple and straightforward—to offer rustic, simple, and excellent Italian cuisine in a warm environment, complemented by a beautiful wine and a live jazz soundtrack. What's not to love?
The Faddas are also committed to locally sourcing their meat, eggs, produce, and fish. Check out their website for comprehensive lists of their vendors. Or better yet, stop by their restaurant at 1103 Manhattan Ave and see it all for yourself!
View this post on Instagram
This stylish wood-clad Danish bar offers a boutique beer selection and a full food menu. With over 20 constantly rotating beer taps and a cellar bursting with over 250 bottles, when it comes to an impressive collection of spirits, TØRST is stocked.
And though their beer and wine offerings come with their own cult following, that doesn't mean they aren't serious about their food. Their menu boasts opulent offerings like Scallop Crudo with chamomile aguachile, pickled strawberries, and serrano; Fried Potato Salad with marble Yukon gold potatoes, ramp kimchi aioli, smoked trout roe, and pea shoots; and a Dry-Aged Patty Melt with caramelized onion, house bacon, and gruyere cheese on a rye bun.
For a phenomenal selection of food and drink, visiting TØRST is a must. As the Danish say, skál (cheers)!
View this post on Instagram
This bright, cheery Vietnamese restaurant is serious about Pho. Their noodle soups are popular—and for good reason. They feature long-simmered broths with fresh vegetables, eggy noodles, and house made hoisin and chili sauces for dipping. Add fatty briskets or a runny poached egg for an extra dose of richness.
Their long tables are great for big groups, as are their shared plate platters. Check out for Grilled Branzino Filet topped with pork tenderloins, a scattering of scallions and crushed peanuts, and all served with turmeric rice and vegetables.
But Di An Di doesn't stop at dinner! Check out their expansive drink menu to pair with your meal. From their signature cocktails to a sip of sake, there's no wrong choice at this Greenpoint hot spot.
---
RELATED: 3 great things to explore in Greenpoint, Brooklyn

RELATED: Where To Stay In Greenpoint

RELATED: Where To Shop In Greenpoint 
Contact Moishe's Self Storage if you're looking for cheap storage units in New York City to hold wine, art, or other things. Our Manhattan/The Bronx and Queens/Brooklyn Storage Facilities are conveniently located near you. We offer over 20 different storage unit sizes, available to individuals, students, and businesses. Reserve your room, view specials, or contact us.