7 of the best neighborhoods to live in Manhattan
When it comes to finding a place to live in Manhattan, New York, it can be hard to find something that fits everything you need. This is not an exhaustive list, but it at least gets you started. Take a look at seven neighborhoods in the Manhattan area.
---
If you're considering a move to NYC in 2020, let us help. We're professional movers in NYC and for more than 30 years, we've helped people just like you make the move to NYC. It's our commitment to make your move as easy as possible. Do you need a storage unit while you transition? Take a look at our room options:
View Storage Rooms for FREE
---
1. Kips Bay
There are a few attractions that make this area appealing, The Water Club, AMC Kips Bay 15, and Trader Joes to name three. The 6 Metro is the only train that serves this area. Even then, you have to walk a few steps to access Kips Bay. If you are in the medical field and work at one of the three hospitals (Bellevue Hospital Center, Tisch Hospital, and Veterans Affairs hospital) in this area, then this may be a place you want to live. Apartments range from the low $4,000 to the high $8,000.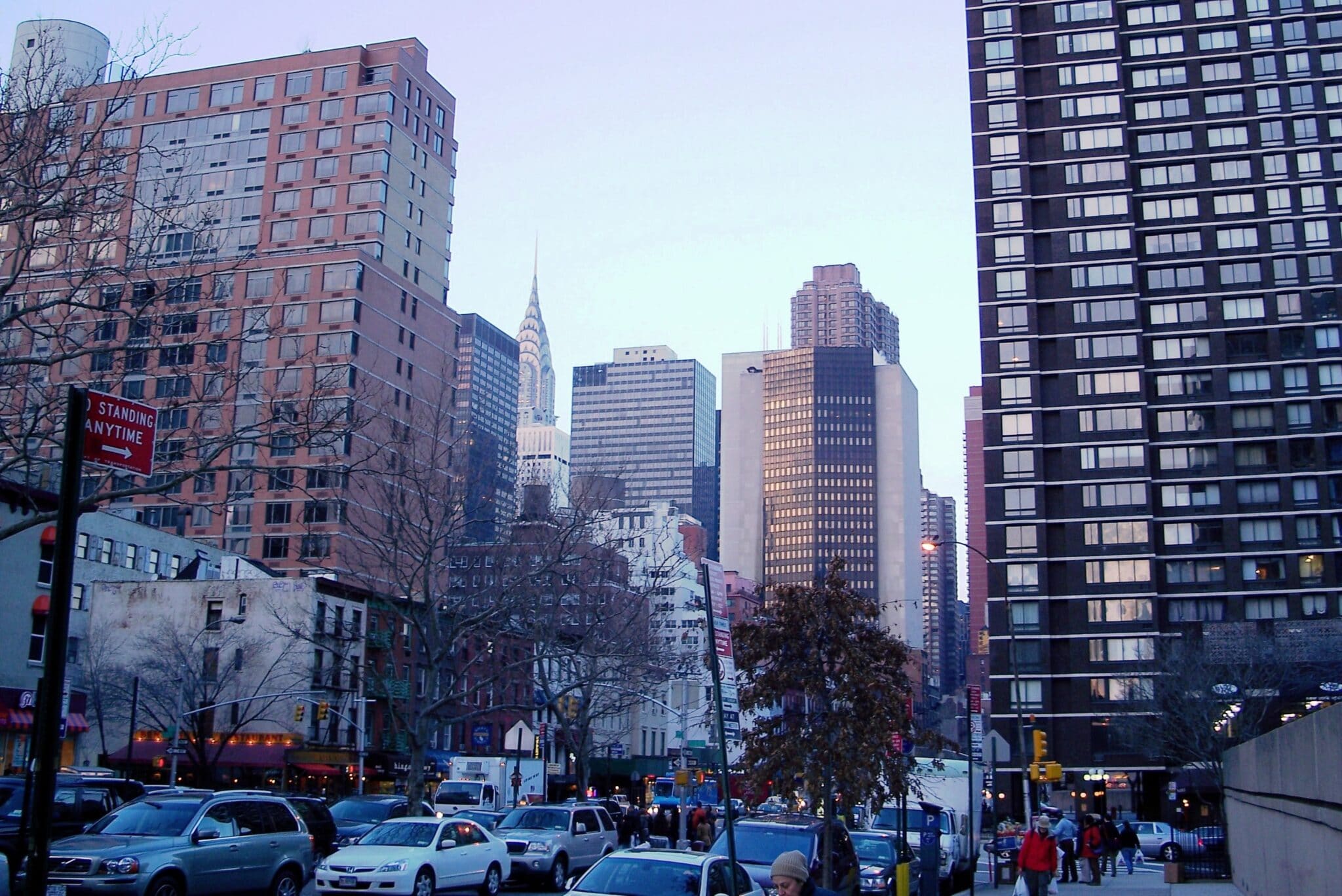 East Village is known for its diversity, music, and culture. If you love music, this is the place for you. Swooning with small music and theater venues, this spot has all the good vibes you could want. This area is served by Metro 6, F, L, N, ​R, and W. Don't forget to visit STOMP, Please Don't Tell Me, and the Mercury Lounge, all hot spots in this area. Apartments range from the upper $3,000 to the upper $8,000.
3. Murray Hill
One of the quieter neighborhoods in the Manhattan area with only a few stops for the Metro: the 7 serves this area, but if you don't mind walking a few steps, 5 and 6 will get you to this area as well. Even though it's not an apartment, Pod 39 is a funky hotel for out-of-town guests. Apartments are in the low $3,000 and go to the upper $6,000.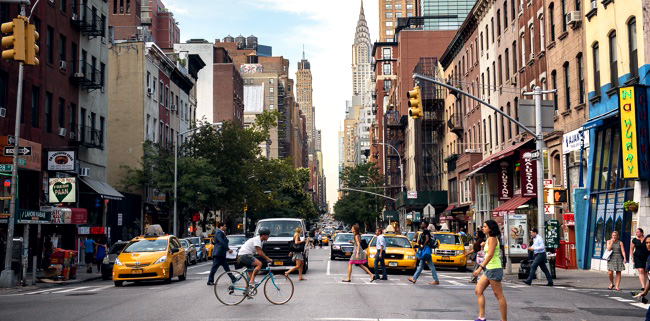 This area highlights the High Line — an old railroad turned into a walking path that's 30 feet above the ground. Also, another popular area is the Chelsea Market, a remound market with eateries and shops. You can access Chelsea through Metro access of 1, ​2, ​3, 7, A, ​C, ​E, F, ​and M. Prices range from the mid-$3,000 to the upper $5,000.
5. Financial District
This area is known as the Financial District because of all the financial institutions — including the New York Stock Exchange — in this small area. This is a busy time during business hours. Metros 1, 2, 3, 4, 5, A, C, E, J, R, W, and Z will bring you to this area. This section of New York is home to the World Trade Center and the Museum of American Finance. Apartments are from the low $3,000 to the low $5,000 a month.
Washington Heights is a lively community for the active professional needing a place to land. Take the A Metro train to this area where the George Washington Bridge is only minutes away. Apartments are a little pricey in this area, around $4,000-$5,000. You're on the outskirts of the city so there's a little less noise. Visit the nearby Fort Washington Park for outdoor fun.
7. Battery Park City
Similar to Washington Heights. This area is on the outskirts of the city. Subway service 1 will bring you to this area. Though not in Battery Park City, the World Trade Center and 9/11 memorial is right next to this neighborhood. Prices for apartments are in the mid-$3,500 and topping out in the upper $5,000.
---
Other Queens content to consider:
RELATED: Busiest place in New York: Midtown Manhattan
RELATED: Stroll around Washington Heights, Manhattan, New York
RELATED: What's there to see in Lower Manhattan, New York?
---
Contact Moishe's Self Storage if you're looking for cheap full-service self-storage units in New York City to hold wine, art, furniture, luggage, household items, or other things.
View Rooms for FREE
Our Manhattan/The Bronx and Queens/Brooklyn Storage Facilities are conveniently located near you. We offer over 20 different storage unit sizes, available to individuals, students, and businesses.
Reserve your room or view specials. We'll pick up your things FREE!