Self Storage Facility in Queens, NY
Queens is a borough with a lot of diversity in terms of business, dwelling, and art. Every borough in the city has a wide variety of residents and culture. Herein, our Moishe's Self Storage facility has a wide variety of storage options for just about everything that needs storing.
Our founder started this company almost four decades ago with a truck and his own two hands. With his hard work and dedication, he sculpted Moishe's Self Storage Facilities into the leading luxury self-storage provider in the city.
The best thing about Moishe's is that we carry that same hard work and dedication through all aspects of our company. You'll know as soon as you step into our facility that we manage our storage units better than any other location in the Queens or the city for that matter.
Why? Our storage advisers can quickly answer any question about storage that you may have. We ensure that no customer must store with our Queens self storage facility without knowing exactly what type of storage unit they need. That means we'll literally show you how to save money at our facility!
Queens Self Storage facility features and options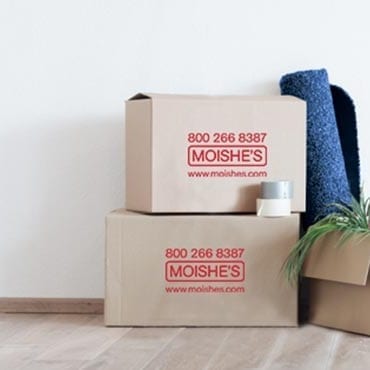 Whenever you store with Moishe's you're storing with the best. But, what makes us the best? Our affordable pricing is a part of it, as well as our professionally trained storage advisers.
The key aspect of our facilities that make them the most trusted storage units in Queens, NYC, is the quality. When entering our facilities, you can see for yourself that we take storage seriously.
Every Queens storage unit that we have is held to the same facility-wide standards. We believe that storage units should not be riddled with pests, mildew, open to thieves, or in any way less than a way to rent some peace of mind.
We make sure that every customer knows that their property is safe here in our Queens storage facility. Even if you're looking to store museum-like quality property, we've got climate-controlled storage for you. Specialized storage can help immensely, as well.
Storing with Moishe's has never been simpler than it is today. Every unit is guarded by a security system that ensures the safety of the property inside.
You won't have to search for a storage company in safe area of Queens, we make the facility the safe area itself. Using our CCTV security camera system, and security team it's a no-brainer. When you access your property day or night it will be right where you left it. Not to mention, you'll be safe while doing it.
---
RELATED: 15 Top Things To Do In Queens, NY
RELATED: 7 Best Neighborhoods To Live In Queens In 2020
Contact Moishe's Self Storage if you're looking for cheap storage units in New York City to hold wine, art, or other things. Our Manhattan/The Bronx and Queens/Brooklyn Storage Facilities are conveniently located near you. We offer over 20 different storage unit sizes, available to individuals, students, and businesses. Reserve your room, view specials, or contact us.