Self Storage Units Long Island
The self storage units Long Island have tolerated recently have been bad. Our Moishe's location has been there for several decades, and the competition that has sprouted up in Long Island nearby has been less than enjoyable. Moishe's Self Storage Units Long Island are consistently maintained as the best you'll find anywhere in the city.
With our extremely high quality storage units, affordable prices, and year around availability self furniture storage units long island have never been better. Whatever you need to store whether it's furniture, sensitive documents, or other delicate property we can help you find a storage room today.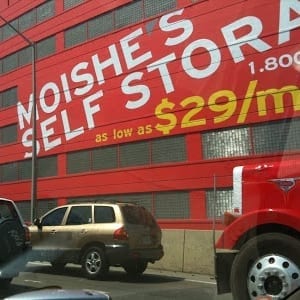 Moishe's Self Storage Units Long Island
Long Island is just as diverse in storage requirements as any other location or borough in NYC. We maintain a diverse portfolio of storage options to ensure that there are no storage requests that we cannot fulfill. Stop by our locations to see the top of the line facilities ensuring that all our rooms are to a standards self storage Units Long island can rely on.
We know that business owners, families, college students, and every New York resident deserves to be treated with respect without paying a fortune. From humble beginnings, Moishe's Self Storage has grown to be a humble company. We know we're the best, but we've earned the right to be called the best through hard work and dedication for the past forty years.
We're open to our customers day or night, so there's not a time that you'll be inconvenience by Moishe's while you're our customer. Furthermore, we make sure that you'll have peace of mind in our facility with our CCTV security system. Moishe's Self Storage Units Long island are the safest, most affordable premium quality storage units in the city. Contact us to find out more.
Moishe's Self Storage
Whenever you're searching our site, if you'd like to ask a storage advisor some questions feel free to click here and fill out a contact form. You can also reserve your storage room right away if you feel you know what you need. Call by phone at (800) 536-6564 to speak with someone directly, and end your self storage facilities near me search today.