Storage in Brooklyn NY
When you're looking to rent storage in Brooklyn NY, you'll find no better than the longest standing premium storage facility in the city. Moishe's Self Storage has been providing the most premium and diverse storage solutions to every customer that has walked in our doors for close to 40 years.
There's nothing like storing your property with a company that you can trust and at a rate you can afford. Wherever you need storage, we've got you covered. Whatever you need stored, we can help you there as well.
Moishe's Self Storage in Brooklyn NY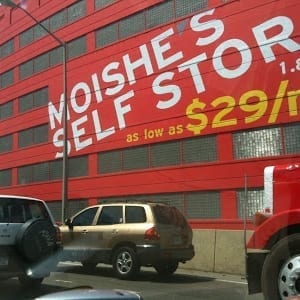 Across NYC there are a ton of storage facilities that represent that worst in storage. When it comes to storage you know that there are basically two options in NYC. You can go for cheap storage that's infested with bed bugs, dilapidated, provides no safety, and offers the customer no peace of mind.
The other option is Moishe's. with Moishe's you get storage in Brooklyn NY, Queens, Long island, all across NYC that you can trust.
There's no reason you shouldn't be able to access your property when it comes time to finish your move, busy season, or go back into the dorms. Our variety and skill has come through hard work and dedication for close to 40 years.
Moishe's Self Storage in Brooklyn NY and More
We provide quality service to all New Yorkers no matter what they require. Whether it's business, a move, or something long term we've got a room to serve your needs. Call in at (800) 536-6564 to speak with a storage advisor today.
We can get you in a storage room in Brooklyn NY, or wherever you need throughout the city. If you've been searching for self storage near me look no further. Contact us online or reserve your room today for the best int he business.