Mini Price Storage Locations
New York City has no shortage of rent storage, but has quite the shortage or mini price storage locations. If you're searching for mini price storage locations and can't find any that work ut for you, consider going with Moishe' self storage. We're the best in the business and have been for almost 40 years.
There's a reason we are constantly rated throughout the internet and the city as the most quality storage facility in the business. We offer premium services and non premium prices and that's a promise. If you're curious as to what your dollar gets you at Moishe's instead of mini price storage locations, read further.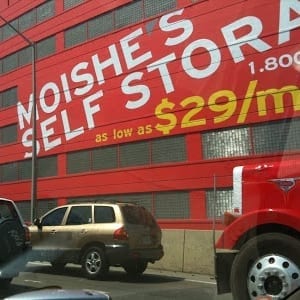 Moishe's and Mini Price Storage Locations
Mini price storage locations are throughout the city, but so are Moishe's. We provide climate controlled storage rooms to every customer no matter the size and choice of extra options.
Too often we hear horror stories from our customers when they've gone with the competition and have gotten the worst customer service imaginable.
The reason we cost only a few more dollars than the competition is to extend those dollars on to you. We insure that your property and your person are safe within our storage facilities wherever and whenever.
Call now to find out why our facilities are the best from a storage professional. Whatever the type of storage you require, if you can't find what you need at mini price storage locations than Moishe's Self Storage is the way to go.
Moishe's Self Storage
If you've been searching for self storage facilities near me and hasn't found any luck then come to Moishe's. We're located everywhere in the city and we service every borough.
Our storage options don't even begin with self storage, there are many options and all of customizable specifications. To find out more use (800) 536-6564 or contact us online here. Reserve your own location if you know what you need. Rent smart, rent Moishe's self Storage.