Moishes Moving
When you need a moving service in NYC, Moishes Moving is the highest customer rated service you'll find.  Moishe's Moving and Self Storage company has been serving the NY tri-state area for over 30 years.  We have earned consistent five-star ratings across the board from our customers.  Whether you need a commercial or personal move, for long-distance or local moving, Moishe's has you covered.
What is Unique about Moishes Moving and Self Storage?
Unlike other moving companies, with Moishe's moving, you never have to deal with subcontractors or hired movers to assist you.  We are your only go-to when seeking moving and rent storage in NYC.  When you need a dedicated, professional team to take care of the job for you here in the city, call on Moishes Moving.
With nearly 40 years of trusted service, we are the Big Apple's quintessential moving and storage company. If you don't have time to be around for your next move or need assistance, we will pack your belongings, transport and load them into storage for you.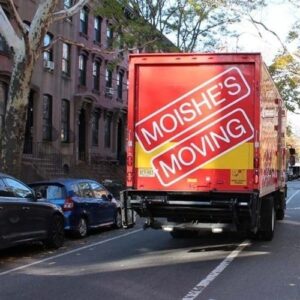 Moishes Moving Trucks
Something that sets us apart from other moving companies is our conscientious approach and expert care when handling your belongings.  Our team of experienced NYC movers are highly trained to maneuver heavy, bulky items like sofas and pianos through narrow hallways and down winding staircases.
Our team of local New York City movers have been doing this for decades, and we're confident you'll discover we're the best in town.  Hollywood film crews have long identified Moishes moving trucks with NYC.  Our Moishe's Moving logo is synonymous with the Big Apple.  We've been featured on talk shows and represent the highest standard of excellence in New York City.
We are the only company here in the city that utilizes climate control in the storage cargo of all our moving trucks.  Not only for fine art and wine storage, climate control is important for preserving your expensive belongings from overheating or freezing.  Moishes Moving is the city's premier moving and storage company.  Why settle for anything but the best?
Moishe's 100% Customer Satisfaction Guarantee
Our 100% customer satisfaction guarantee means our customer service team will go above and beyond to ensure your moving and storage experience in the city is the easiest move you've made.  Feel free to reserve your move with Moishe's today, whether personal or commercial, long distance or local.  Give us a call at your local Moishe's Self Storage location and experience the superior quality service of Moishes Moving.  Experience the Moishe's difference that sets us apart as NYC's premier moving and storage company for over 30 years.