Self Storage Chelsea NYC
There are several self storage Chelsea NYC facilities to choose from. But there is only one storage company that has been serving the NYC and surrounding area for over thirty years, and still has some of the lowest prices on the market! That company is Moishe's Self Storage and we are here to provide you with an outstanding storage experience that is second to none!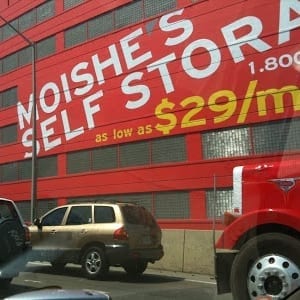 Residential Storage
Are you getting tired of your cluttered apartment making you look like a hoarder? NYC is one of the most space-starved cities within the United States. Each NYC resident gets 2.5 feet of space, while the national average is 7 feet per person. We don't like those stats! By renting a Moishe's Self Storage unit, you can clear up some of that apartment clutter and feel like you have room to live again!
Just think of a Moishe's storage unit like an extension of your closet or attic. Our 5 X 5 foot furniture storage units are priced affordably and are excellent for storing those infrequently used items within your apartment that take up floor and closet space, such as folding furniture, party flatware, or seasonal clothing. Don't sport Christmas lights in July – take those holiday decorations down and store them in a Moishe's Self storage unit!
Commercial Storage
Chelsea is one of the most up-and-coming areas in NYC! If you find that your business's commercial space is overflowing with client documentation, extra inventory, or old office supplies and equipment, rent a storage unit from Moishe's Self Storage.
We understand that a growing business needs space, and we can provide that! Our while our top-of-the-line security system will keep it safe. Maximize the functionality of your company's commercial space by renting a storage unit from Moishe's Self Storage.
Contact us to learn more about why Moishe's Self Storage provides some of the most high quality self storage Chelsea NYC can offer.