Storage Discounts Near Me
Tired of spending too much on rent storage? If you're fed up with it you're probably experiencing what our founder so many years ago. Too many storage facilities show their true colors far too late.
Whenever they're advertising they tout the lowest storage rates and best storage facilities when in fact their warehouse and storage rooms are stocked full of insects, poor climate control and a myriad of other issues. If you're looking for quality storage and storage discounts near me, then nothing beats Moishe's Self Storage.
Moishe's Storage Discounts Near Me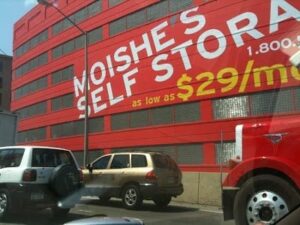 Comparing any other storage facility that's the same price as Moishe's or more throughout the city you'll find that our rooms are discounted all the time. No other facilities offer what we do for the price point all our rooms start at.
However, we know that's not enough, so we offer specials on top of our extremely affordable premium storage rooms. They rotate throughout the season and add considerable value to all our different types of storage. If you're unsure which storage discounts near me are available at the time you choose to contact us call and speak with a storage advisor or click here.
We believe that you should be able to safely access your property and storage at any time day or night. So we make sure we have staff and remain open at all times, a CCTV system, and a security team for no extra charge to you. That's one heck of a storage discounts near me.
Moishe's Self Storage
Contact us today online by going to our contact page or phone in from your device at (800) 536-6564 to speak with a storage advisor. We'll be sure to put you in a room that suits your requirements. If you're tired of searching for self storage near me then Moishe's storage discounts near me has got you covered in every way. Reserve your room online right away!v