Storage Solutions for Small Apartments
Almost all of us have been there. The first apartment is always small. There's a noisy neighbor, a leaky sink, and however many other inconveniences that seem to come uniform for every small apartment in New York. However, there's nothing that beats living in the city.
You come to make the most of your situation. You grow not mind the neighbor or the sink, and you decide to start looking for storage solutions for small apartments.
Moishe's Self Storage Solutions for Small Apartments
A small apartment is a canvas. The most innovative and driven New Yorkers begin organizing and consolidating space to ensure their experience is streamlined. Others start living more simply, and staying outdoors more. No matter what type of New Yorker you are, you're going to run into the glaring issue.
You need some self storage solutions for small apartments. Lucky for you, Moishe's Self Storage is here to help. Whether it's an extra closet or much more than that we've got you covered. Go ahead and visit one of our walk-in locations in Queens or the Bronx to see for yourself the storage solutions we offer.
Before you decide to go for the cheapest possible self storage solutions for small apartments you can find, we'd like to inform you what you get by paying just a little extra. Your cheap self storage solution will barely have a lock, will only be accessible at certain times of day, and will endanger your property.
There have been many news reports on cheap storage and bed bug infestations. New York is so stricken with the pests in the first place, it can be difficult to get rid of them entirely. Moishe's storage in NYC is different.
One amenity that is almost a must-have is spacious elevators with wide doors. Moishe's Self Storage facilities feature elevators that are double-wide and can fit the most awkward of furniture sizes.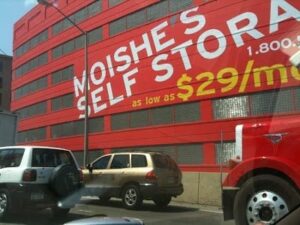 Store with the Best. Store with Moishe's!
We recommend you choose Moishe's because we offer the moving and storage solutions that New Yorkers need, all while providing excellent service at a reasonable price. Those issues with cheap storage we mentioned above don't happen with us.
If you're really pinching pennies, we also recommend you go for a 5' x 10' storage room for three months. If you do, you get free pick up and it's a perfect size for your studio apartment. Contact us online or by phone at (800)-536-6564.