Storage Unit Locations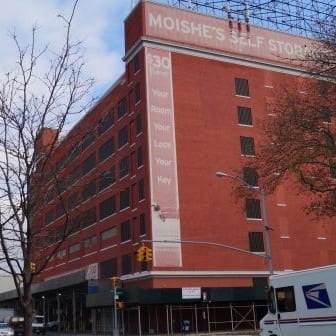 New York City has many storage unit locations, but some are greater than others. There are several reasons why, but in essence it comes down to affordability, convenience, and quality of service. Moishe's Self Storage makes those three aspects the focus of our business model. With our many storage unit locations throughout New York City and our quality service makes our prices and storage units the best value in the city. We service every borough in New York City, so if you're in need our storage unit locations are most likely near you.
Convenient Locations
You can find our storage unit locations in Queens and the  Bronx, where you can reserve a room to place your property in the hands in the best self storage unit locations team in the city. Every storage unit locations that Moishe's has is held to the same outstanding quality as the last. Too often we here horror stories of bed bugs, theft, lost property and more from other storage unit locations. Moishe's understands that you're storing your property because you intend to pick it up later, not because you don't care about it now.
Top Notch Security
We provide storage unit locations that are consistently maintained and monitored 24/7. Moishe's also ensures that you are safe to access your property with our CCTV system and security team. There's no reason you shouldn't be as safe as your property. Storage unit locations in New York City are usually an inconvenience, but with Moishe's, they don't have to be.
On top of being secure, each Moishe's Self Storage facility is safe against inclement weather and damage from precipitation, fire, and heavy wind. You may assume that every storage facility protects against weather damage, but you would be surprised at how many budget storage facilities do not provide guaranteed protection against such things. Choose a company that stands by the quality of their amenities.
Storage Options for Your Convenience
Moishe's Self Storage boasts a wide range of sizes so that you don't end up paying for space you won't use. Our units range from 5 X 5 ; 5 X 7 ; 5 X 10 ; 6 X 10 ; 8 x 10 ; 10 X 10 ; 10 X 12 ; 10 X 15 up to 10 x 20. The 10 X 10 units are large enough to store the contents of a one bedroom condo or apartment, and the 10 X 20 unit is large enough to store the contents of a three to four bedroom house.
Store with the Best at Moishe's Self Storage
Contact a storage adviser today by calling in at (800) 536-6564 or contact us online. We provide consultations to every curious customer for free. Don't worry about trying to be unsold either, we want to get you in the smallest room that also suits your storage requirements. Contact Moishe's Self Storage today to fulfill your storage needs.