Storage Units in Yonkers New York
If you are in the market for storage units in Yonkers New York, congratulations! You have found Moishe's Self Storage, the premier storage unit company in New York City for over three decades. Our state of the art security, professional and friendly customer service, and competitive rates are sure to make you say, "Wow."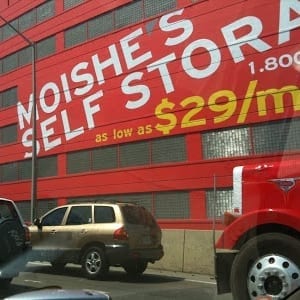 Safety First!
Moishe's Self Storage recognizes that with eight million people and counting currently residing in New York City and its boroughs, the need for safety is paramount. Residents of any city should always be aware about the dangers city life can bring, whether it's personal or property damage. We feel that both need to be addressed when it comes to a storage facility. This mindset makes Moishe's the proud operators of the safest storage units in Yonkers New York.
At each of our five convenient locations, our facilities are equipped with the latest in fire suppression technology, giving you the peace of mind that your personal belongings will not be damaged in the event of structural or smoke damage. Security guards are always available and on duty and conduct regular patrols to make sure unsavory characters have not slipped in.
Every year, Moishe's Self Storage receives requests to move and store from thousands of residential and commercial clients, both local and international. If you are moving and looking for a temporary solution to store your belongings, we have a solution for you!
Options for Storage Units in Yonkers New York
If you are downsizing, reorganizing, or decluttering, we have smaller, cheaper options for you as well. Regardless of what size you choose, your unit will be clean and secured with the top security features.
Visit us online or talk to one of our storage specialists today! For the most reasonably rated and safest storage units in Yonkers New York, fill in our form online or talk to a storage specialist today!