Affordable Self Storage
Declutter Your NYC Apartment with Affordable Self Storage from Moishe's
New York City, the city that never sleeps, is known for its vibrant culture, bustling streets, and of course, its tiny apartments. With limited living space, it's no wonder that New Yorkers often find themselves struggling to make room for all their belongings. But fear not, my fellow New Yorkers, because self-storage is here to save the day.
If you need some extra space, there are plenty of affordable self-storage options available in the city. One such option is Moishe's Self Storage, a company that has been serving New Yorkers since 1983.
Moishe's offers a range of unit sizes to fit any storage need, from small lockers to large units that can hold furniture and appliances. And if you're not sure what size you need, their friendly and knowledgeable staff can help you figure it out. Plus, their facilities are clean, well-lit, and easy to access, so you can feel confident that your belongings are safe and secure.
But it's not just the variety of unit sizes that make Moishe's stand out. They also offer a range of amenities that make storing your belongings a breeze. For example, their climate-controlled units ensure that your valuables won't be subjected to extreme temperatures or humidity. And if you need to access your unit outside of regular business hours, Moishe's offers 24/7 access, so you can grab that winter coat or box of holiday decorations whenever you need them (even if it's at 3 am on a Tuesday).
One of the great things about Moishe's is that they have multiple locations throughout the city, so no matter where you're located, there's likely a Moishe's nearby. They have locations in Manhattan, Brooklyn, Queens, and the Bronx, making it easy to find a storage unit that's convenient for you.
But perhaps the biggest selling point of Moishe's is its commitment to customer service. Moving and storage can be stressful, but Moishe's makes the process as easy and painless as possible. Their staff is friendly and helpful, and they'll do everything they can to make sure your storage experience is a positive one. And if you ever need assistance, they're just a phone call away.

Moishe's Self Storage – Affordable Self Storage
Now, you might be wondering, "But what about the cost? Isn't self-storage expensive?" Some self-storage options in New York can indeed be pricey, but Moishe's offers competitive prices that won't break the bank. And if you're looking to save even more money, they often have special promotions and discounts available. Plus, they offer flexible payment options, so you can choose the payment plan that works best for you.
But let's be real, we all know that New Yorkers love a good bargain. So, if you're looking for some extra storage space on a budget, here are a few tips to help you find affordable self-storage in the city:
Research different options: Don't just go with the first self-storage company you come across. Do some research and compare prices and amenities to find the best deal.
Look for promotions and discounts: Many self-storage companies offer promotions or discounts for new customers, so be sure to check for any available deals before signing up.
Consider the location: Units located in the heart of Manhattan are likely to be more expensive than those in the outer boroughs. If you don't need to access your unit frequently, consider a location that's a bit further out.
Share a unit with a friend: If you don't need a lot of space, consider sharing a unit with a friend or roommate. Not only will you save money, but you'll also have someone to help you move your stuff.
Choose the right unit size: Don't rent a unit that's larger than what you need. Instead, choose the right size for your belongings to avoid overspending. Check out our room size calculator for help in finding the right size unit for you.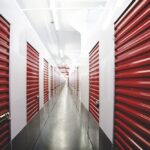 Avoid peak times: During peak moving seasons, prices tend to go up. Try to avoid these times if possible to save some money.
By following these tips, you can find affordable self-storage options in the city without sacrificing quality or convenience. And with companies like Moishe's Self Storage, you can feel confident that your belongings are safe and secure.
But let's not forget about the fun stuff you can do with all that extra space. Finally, you can have room to practice your yoga moves or start that home gym you've always wanted. Or maybe you can finally have a dedicated space for your crafting or woodworking projects. The possibilities are endless.
In addition to affordable storage options in New York, Moishe's also offers several specials to give you the best value in the city. Click here to see our more recent offers and specials.
Affordable Self Storage with Moishe's
If you're a New Yorker in need of some extra space, look no further than affordable self-storage options like Moishe's Self Storage. With a variety of unit sizes, convenient locations, climate-controlled units, 24/7 access, and exceptional customer service, they're the perfect solution for anyone looking to declutter their home and reclaim their living space. And with a little creativity, you can turn that storage unit into your oasis.