Budget Friendly Storage Options NYC
When it comes to living in a bustling city like Queens, New York, space is a luxury. With a limited amount of square footage available in apartments and homes, finding extra storage space for your belongings can be a challenge. Fortunately, there are affordable storage options available in Queens that can help you declutter your living space without breaking the bank. One such option worth exploring is Moishe's Self Storage.
Moishe's Self Storage has been serving the Queens community for over 30 years, offering reliable and budget-friendly storage solutions to residents and businesses alike. With their commitment to providing exceptional service and secure facilities, Moishe's has become a trusted name in the industry.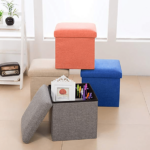 What sets Moishe's Self Storage apart from other storage providers is its dedication to affordability without compromising on quality. They understand the importance of finding a storage option that fits your budget while ensuring the safety of your belongings. Whether you're looking to store a few items or need a larger space for furniture and appliances, Moishe's has a range of storage units to accommodate your needs.
One of the key factors to consider when choosing a storage facility is security. Moishe's Self Storage takes this aspect seriously. Their facilities are equipped with state-of-the-art security features, including 24/7 video surveillance, motion detectors, and individually alarmed units. With these measures in place, you can have peace of mind knowing that your belongings are well-protected.
Another aspect that makes Moishe's a top choice for budget-friendly storage in Queens is its flexible rental options. They offer month-to-month leases, allowing you to rent a unit for as long as you need without being tied down to a long-term contract. This flexibility is particularly beneficial if you're unsure about your storage needs in the long run or if you're planning a temporary relocation.
Moishe's Self Storage also understands that convenience is a priority for its customers. With multiple locations throughout Queens, you can easily find a facility that's close to your home or place of business. This accessibility saves you time and effort when it comes to transporting your belongings to and from the storage unit.
In addition to their convenient locations, Moishe's offers complimentary storage consultations to help you determine the right unit size for your needs. Their team of storage experts can assess your requirements and guide you in selecting the most suitable unit, ensuring that you make the most cost-effective choice.
When it comes to affordability, Moishe's Self Storage stands out by providing competitive pricing and a range of discounts and promotions. They offer special rates for new customers, seasonal discounts, and referral programs that can help you save even more on your storage costs. By regularly checking their website or contacting their customer service, you can stay informed about the latest deals and take advantage of the most budget-friendly options available.
Furthermore, Moishes understands that some items require special care and maintenance. If you need climate-controlled storage for delicate items such as artwork, electronics, or antiques, they have units equipped with temperature and humidity control. These climate-controlled units ensure that your valuable possessions are protected from extreme temperature fluctuations and moisture damage.
If you're in need of budget-friendly storage options in Queens, NY, Moishe's Self Storage should be at the top of your list. With their commitment to affordability, exceptional security measures, convenient locations, and flexible rental options, they provide a comprehensive storage solution for both residential and commercial needs.
By choosing Moishe's, you can declutter your living space, create a more organized environment, and have the peace of mind of knowing that your belongings are stored in a safe and secure facility. Contact Moishe's Self Storage today to explore their offerings and find the perfect storage unit that suits your needs and budget.
To contact Moishe's Self Storage, you can visit their website at www.moishesselfstorage.com or call their customer service hotline at (123) 456-7890. Their friendly and knowledgeable staff will be more than happy to assist you with any inquiries you may have and guide you through the process of renting a storage unit.
When reaching out to Moishe's, be prepared to provide them with information such as the approximate size of the items you plan to store and the duration of your storage needs. This will help them recommend the most suitable unit size and provide you with an accurate quote. Remember to inquire about any ongoing promotions or discounts that may be available to ensure you get the best possible deal.
Before finalizing your decision, it's always a good idea to visit the storage facility in person. This allows you to assess the cleanliness, accessibility, and overall condition of the facility. Moishe's takes pride in maintaining clean and well-maintained storage spaces, ensuring that your belongings are stored in a safe and pleasant environment.
When visiting the facility, take the opportunity to ask any additional questions you may have regarding their security measures, access hours, and policies. Understanding the terms and conditions of the storage agreement will help you make an informed decision and ensure a smooth storage experience.
If you're in search of budget-friendly storage options in Queens, NY, Moishe's Self Storage is a reliable and trusted choice. With their commitment to affordability, top-notch security features, convenient locations, flexible rental options, and excellent customer service, they provide a comprehensive storage solution that caters to your needs while fitting your budget.
Remember, decluttering your living space and creating a more organized environment doesn't have to be a daunting task. With the assistance of Moishe's Self Storage, you can find the perfect storage unit to accommodate your belongings and free up valuable space in your home or office.
Contact Moishe's today and take the first step toward a clutter-free and organized life. Their team of professionals is ready to assist you every step of the way, ensuring that your storage experience is hassle-free and cost-effective. Trust Moishe's Self Storage for all your storage needs in Queens, NY, and discover the convenience and affordability they bring to the table.