Extra Storage Space Near Me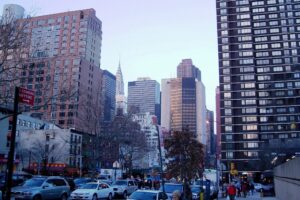 Extra Storage Space in New York
Self-storage has become an increasingly popular solution for individuals, families, and businesses who require extra space for their belongings. With the growth of the self-storage industry, it has become easier to find self-storage facilities in New York, including Moishe's Self Storage, which offers numerous benefits to its customers.
Moishe's  is a leading provider of self storage solutions in NYC. With our 4 locations in New York, we offer a wide range of self storage options to our customers. Our facilities are well-maintained, secure, and conveniently located, making them an excellent choice for anyone looking for extra space storage in New York.
One of the primary benefits of using self storage is the additional space it provides. Whether you need to store household items, furniture, or business inventory, self storage offers a cost-effective and flexible solution. Instead of cluttering your home or office with items that you don't need on a daily basis, you can free up space and make your living or working area more comfortable and organized.
Convenience
Another advantage of using self storage is the convenience it provides. Moishe's offers various sizes of storage units, which means that you can find a unit that suits your specific needs. We make it even easier for you with our room size calculator to fit the right one!
Furthermore, their facilities are open seven days a week, providing customers with access to their belongings at any time.
Security
Security is another critical benefit of using Moishe's Self Storage. Our facilities are equipped with advanced security systems, including 24/7 video surveillance, and electronic gates, to keep your belongings safe and secure. Additionally, the majority of our storage units are climate-controlled, which helps to protect sensitive items such as electronics, artwork, and furniture from damage caused by extreme temperatures or humidity.
Affordable
At Moishe's, we know that finding a storage unit to fit your budget is important.  Moishe's has some of the most affordable storage options in the business, with units starting at just $29 per month. With more than 20 different unit sizes, you'll never pay for space you don't need.
Spacious Storage Option
We have more than 500,000 square feet of space, so we can store anything. All our units are 8 feet tall, and we have rooms that can be set to a certain temperature. Moishe's can make our storage options fit your needs, whether you need them for your home or your business. Check out the options we have for storing art, wine, and documents.
Specials We Offer
If you rent a storage unit for at least three months and it's up to 5 x 10 feet, Moishe's professional movers will pick up your items and take them to your storage facility for free. But there's more! We'll do all the heavy lifting for you if you use our Storage on Demand services. We have two self-storage facilities in Queens and The Bronx to serve the five boroughs and nearby areas the best. Click here for more of our specials!
Moishe's self-storage offer numerous benefits to individuals, families, and businesses who need extra space storage. With their well-maintained, secure, and conveniently located facilities, they provide a cost-effective, flexible, and convenient storage solution for anyone who needs it. Whether you need to store household items, furniture, or business inventory, self-storage is an excellent option that can help you free up space and keep your belongings safe and organized