How To Move to NYC
Moving to New York City, Storage Units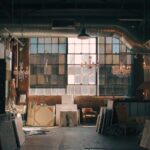 Moving to New York City could be an exciting and challenging experience all at the same time. People from all walks of life are drawn to the city due to its vibrant culture, abundant diversity, and endless possibilities. The process of relocating can be challenging, though, because of the size and population of New York City. In precise situations like this one, a self-storage facility can be a useful asset. If you are thinking of moving to New York City, read on for some tips on how to locate a self-storage unit that will meet your needs.
Your first order of business is to calculate how long you'll need a storage facility. Need a New York City storage space for the foreseeable future? Do you foresee a longer duration of storage unit leasing, or will a short-term solution suffice? The second, and possibly most crucial, stage in the storage process is packing, which can begin once you've determined the size and type of storage unit you'll need.
Plan Ahead: Moving to NYC requires a lot of planning and preparation. Make a list of everything you need to do, from finding a place to live to buy furniture and household items. This will help you stay organized and on track as you prepare for your move.
Find a Place to Live: One of the most important steps in moving to NYC is finding a place to live. Research different neighborhoods to find one that fits your lifestyle and budget. Keep in mind that rental prices in the city are high, so be prepared to spend more than you would in other cities.
Rent a Self-Storage Unit: A self-storage unit can be an invaluable resource when moving to NYC. Not only will it provide a safe and secure place to store your belongings while you search for a permanent home, but it can also help you reduce the clutter in your new apartment and keep your new home organized.
Pack Carefully: When packing for your move, make sure to label each box and take note of what is inside. This will make it easier to find items when you need them later. Consider using packing materials such as bubble wrap or packing paper to protect your belongings during the move.
Hire Movers: Moving in NYC can be difficult, especially if you have a lot of heavy furniture or belongings. Consider hiring a professional moving company to help you transport your items to your new home.
Familiarize Yourself with the City: Once you arrive in NYC, take some time to familiarize yourself with the city. Explore your new neighborhood, visit local attractions, and get to know the people around you. This will help you feel more at home and make your transition to the city a smoother one.
You've finally decided to rent a storage unit in The Bronx or use a storage facility in Queens after calculating the size and duration of your storage needs. You must now plan what and how you will store in your new unit. Here are some helpful hints:
Use the correct size storage containers/boxes for your items. This will help keep them safe during transit.
Carefully wrap any fragile items that are going into storage.
If possible, vacuum seal clothing into air-tight bags; this will keep your clothes fresh!
Thoroughly clean your NYC storage unit before moving your items into it
If you're moving into a New York City apartment, chances are you're doing it as part of a downsizing effort. We really do mean a lot. New York City apartments are already notoriously small, and they offer little extra storage room. In light of the fact that you'll soon be moving into a small apartment in New York City, we'd like to provide some advice on how to downsize for the upcoming move and what can safely be put into storage.
Get rid of anything of which you might have duplicates. While it might seem counter-intuitive, downsizing so as to only have one of an item, will save you crucial space in your apartment
Get rid of items' original packaging. Items such as bandages, soap, cleaning materials, and more can come in bulky, boxy-type packaging. Get creative with how you store these items by removing their original packaging and utilizing a space-saving storage container.
Consider donating, storing, selling, or getting rid of anything that you have not used at least once in the last 6 months. Odds are high that you won't miss these items when they're gone.
Determine which items are of value to you and store them securely. The safest way to keep valuable items secure is to store them in a lockbox or small safe in your apartment. Even items of purely sentimental value can be stored in a lockbox.
Find creative means by which to store things. Invest in hooks and baskets that will allow you to create "new" storage spaces for items on the back of doors and in the corner nooks of rooms.
Moishe's Self Storage; Move to NYC
In conclusion, moving to NYC requires a lot of planning and preparation, but with the help of a self-storage unit, it can be a much smoother and stress-free process. A self-storage unit can provide a safe and secure place to store your belongings while you search for a permanent home, and it can also help you reduce the clutter in your new apartment and keep your new home organized. Whether you're moving to NYC for the first time or simply looking for a change, a self-storage unit is an essential tool to make your move a success.
Contact Moishe's Self Storage, New York City's most trusted provider of storage spaces, if you're moving there and plan to downsize. In both the Bronx and Queens, we provide low-priced, spotless, and fully serviced storage spaces. Wine, artwork, furniture, luggage, and other personal effects are just some of the things we can store for you.