You've established tidying by category is most important, now it's time to follow the right order of tidying.
Marie Kondo is one of today's leading inspirators of joyful living. She's helped people find joy, fulfillment, thankfulness, and tidiness with her six rules of tidying with the KonMari method.
Her process work. 
Here's the fifth rule:
---
Follow the right order
Following the right order prepares you with easy things to the harder things.
Clothes are the easiest things to tidy. Books are a little harder, papers a little more, komono is almost the hardest, and sentimental items are the hardest to tidy.
You'll Inevitably come across pictures or notes when sorting papers or komono items. These are, however, sentimental items and need to be sorted last.
You haven't mastered the art of tidying in these first stages. 
In each stage you're learning to let go with gratitude, cherishing the items you choose to keep, and making space for what you love.
It's important to truly cherish the things you own. The KonMari method builds on itself — creating a rolling effect in all aspects of your life.
Clutter obscures what's most important. Following the process helps you determine what's most important.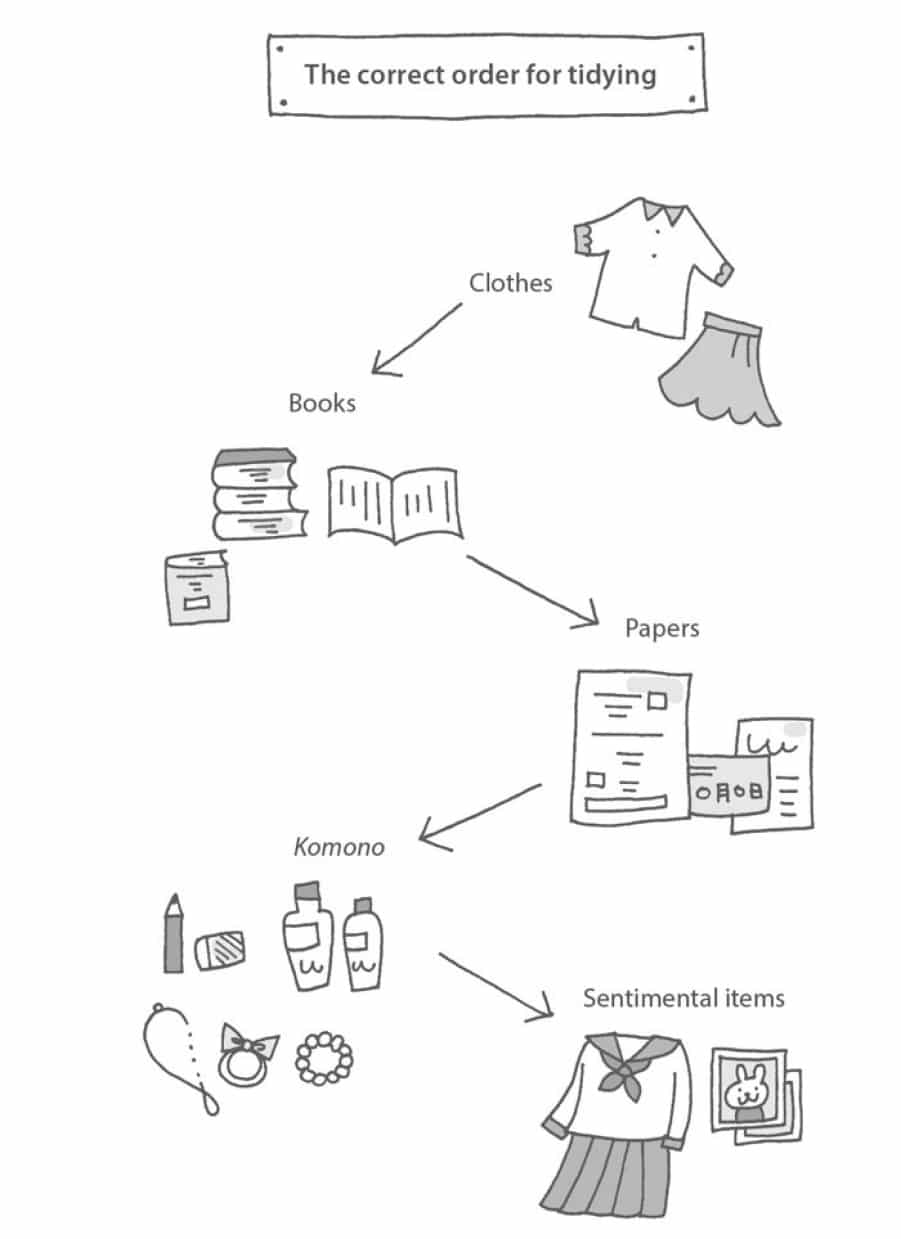 View this post on Instagram
View this post on Instagram
View this post on Instagram
View this post on Instagram
---
Consider her other Rules:
Rule 1 Of The KonMari Method: Commit Yourself To Tidying Up
Rule 2 Of The KonMari Method: Imagine Your Ideal Lifestyle
Rule 3 Of The KonMari Method: Finish Discarding First
Rule 4 Of The KonMari Method: Tidy By Category, Not By Location
Rule 6 Of The KonMari Method: Ask Yourself If It Sparks Joy

---
The KonMari method
"Most tidying methods advocate a room-by-room or little-by-little approach, which doom you to pick away at your piles of stuff forever.

The KonMari Method™ encourages tidying by category – not by location – beginning with clothes, then moving on to books, papers, komono (miscellaneous items), and, finally, sentimental items. Keep only those things that speak to the heart, and discard items that no longer spark joy. Thank them for their service – then let them go.

People around the world have been drawn to this philosophy not only due to its effectiveness, but also because it places great importance on being mindful, introspective and forward-looking."

(From KonMari.com. Bold ours.)
---
Contact Moishe's Self Storage if you're looking for cheap storage units in New York City to hold wine, art, or other things. Our Manhattan/The Bronx and Queens/Brooklyn Storage Facilities are conveniently located near you. We offer over 20 different storage unit sizes, available to individuals, students, and businesses. Reserve your room, view specials, or contact us.