Self Storage Facility
If you're searching for storage places that you can afford, but are tired of getting scammed by low security and poor maintenance rent storage facilities then we've got some information for you. Moishe's Self Storage has consistently maintained the top spot as one of the most highest rated and most affordable premium storage places in the city.
That's because we maintain the level of dedication we developed whenever our founder started the company with one man and his truck. Since then we've been on the today show, partnered with Lebron James, and reached farther than we ever through that we could initially all thorough honest her work and dedication.
We're located throughout the city with services extending to every borough. That means if you live in New York City then there's a premium self storage facility near you. All you have to do is visit our locations page to determine where the nearest one to you is. If you've got extensive storage then our moving services can help you get your property to one of our self storage facility locations no problem. We also offer free pick up for our 5' x 10' storage rooms. Just visit our storage specials to find out more.
Moishe's also excels in the storage business because of our ability to always offer extra on top to seal the deal. With every storage room you'll get a consistently maintained and monitored rental.
Moishe's Self Storage Facility Rentals
If you're interested in starting the rental process today then call in at (800) 536-6564 and speak with a storage advisor. There you'll be able to determine the perfect storage room for your self storage facility needs that'll save you the most money in the quickest amount of time. If you're tired of searching for self storage near me then come to Moishe's Self Storage. You can also contact us online and reserve your storage room there as well.
If you're searching for a self storage facility has an overwhelming number of options. But if you want a convenient, safe and secure storage facility in the NYC metro area, Moishe's Self Storage is the choice for you.
When you sign up to store your personal or commercial belongings with us, up to a 5×10 space, our experienced NYC movers will transport your items for FREE, at no extra cost.
Trust Your Possessions with the Industry's Best
Moishe's Self Storage has been an industry leader for over 30 years in the Manhattan and NY Tri-State area. Trust the experts with storing your items. Try Moishe's Self Service storage today, and experience for yourself why we are the premiere storage facility in the Brooklyn area.
Our monthly storage rental units service a large portion of the NY metro area, with five convenient locations in the Bronx, Manhattan, Queens, Jersey City and Long Island City. In every facility, we offer secure, clean and convenient services.
We at Moishe's Self Storage in NYC offer 20 different unit sizes for our rental space. Whether you are looking for affordable storage for small items such as smaller boxes and folding items, or storage for a three- or four-bedroom house, Moishe's offers temporary and long-term storage for your personal or commercial items.
Self Storage Facility in Queens NY
Queens is a borough with a lot of diversity in terms of business, dwelling, and art. Every borough in the city has a wide variety of residents and culture. Herein, our Moishe's Self Storage facility has a wide variety of storage options for just about everything that needs storing.
Our founder started this company almost four decades ago with a truck and his own two hands. With his hard work and dedication, he sculpted Moishe's Self Storage Facilities in to the leading luxury self storage provider in the city.
The best thing about Moishe's is that we carry that same hard work and dedication through all aspects of our company. You'll know as soon as you step into our facility that we manage our storage units better than any other location in the Queens or the city for that matter.
Why? Our storage advisers can quickly answer any question about storage that you may have. We ensure that no customer must store with our Queens storage facility without knowing exactly what type of storage unit they need. That means we'll literally show you how to save money at our facility!
Queens Self Storage Facility Features and Options
Whenever you store with Moishe's you're storing with the best. But, what makes us the best? Our affordable pricing is a part of it, as well as our professionally trained storage advisers.
The key aspect of our facilities that make them the most trusted storage units in Queens, NYC, is the quality. When entering our facilities, you can see for yourself that we take storage seriously.
Every Queens storage unit that we have is held to the same facility wide standards. We believe that storage units should not be riddled with pests, mildew, open to thieves, or in any way less than a way to rent some peace of mind.
We make sure that every customer knows that their property is safe here in our Queens storage facility. Even if you're looking to store museum-like quality property, we've got climate controlled storage for you. Specialized storage can help immensely, as well.
Self Storage Facility in Queens NY
Storing with Moishe's has never been simpler than it is today. Every unit is guarded by a security system that ensure the safety of the property inside.
You won't have to search for a storage company in safe area of Queens, we make the facility the safe area itself. Using our CCTV security camera system, and security team it's a no brainer. When you access your property day or night it will be right where you left it. Not to mention, you'll be safe while doing it.
Store with the Best in Queens. Store with Moishe's!
You'll find our phone number here at (800) 536-5654. You can also contact us online. It's convenient to reach a storage adviser whenever you need them, and we at Moishe's Queens Self-Storage Facility understands this.
Whenever you need moving and storage, you've come to the right place when you come to Moishe's. Our facility is always rated five stars. Perhaps it's our 100% customer satisfaction guarantee, or maybe our affordable pricing structure. Find out for yourself today.
Self Storage Facility in The Bronx
The Bronx is a diverse neighborhood. From beach side homes to suburban subway stops this borough has it's share of flavor. Although it's never been truly cheap to live in the Bronx, it's certainly one of the more affordable areas to live.
This is not due to an over abundance of space, however. Sorry hopeful New Yorkers, the real estate situation in the Bronx is still scarce. With Moishe's Self Storage, we make sure that there is always an opportunity for extra space all residents of the Bronx can afford.
Moishe's Self Storage Facility Bronx
While the Bronx is known for it's rich cultural diversity, music, and general durability of it's residents, it's still New York City. That means apartment prices are extremely high, and even if you find a place you like and can afford you're not going to have the space that you probably hope for.
Consolidation is a way of life around here. If you're living in or near the Bronx and you're looking for a self storage facility you've probably seen the large list of options.
We're not the only self-storage facility the Bronx has ever seen. On one hand, we've been around for four decades. On the other, there are plenty of options other than us.
However, if you're looking for self storage facilities in the Bronx you can trust you've come to the right place. Our facilities across New York are all equal quality but that quality is the best that you'll find in NYC. There are many reasons why.
As we mentioned above, Moishe's Self Storage has been around for a long time. We know how New York has changed over the last four decades, and we've grown with the city rather than beside it.
There are many self storage facilities present in NYC that are located across the United States. These companies aren't tailored to NYC like Moishe's is.
Self Storage Facility in The Bronx
For example, Moishe's Self Storage has always been a company about providing storage for the people of NYC and the companies as well. We've crafted a storage facility in the Bronx capable of storing every type of property.
Whether it needs specific climate control specifications, like wine, or simply dorm room furniture space; we've got you covered. Moishe's knows the extent of the storage needs in the Bronx, and the city for that matter.
Moishe's Bronx Storage Facility has Security
We make sure that our storage facilities have security that you can count on. In fact, the most important aspect of any storage facility should be the security. That's why Moishe's Self Storage maintains a clean facility with the best security that you'll find in the city.
Every storage unit is guarded by a 24/7 CCTV security system, and a security crew. You'll be able to store your property safely and with ease because our storage facility in the Bronx is open all day and night. No storage facility in the Bronx grants greater peace of mind than our Moishe's Self Storage facility.
Store with the Best. Store with Moishe's!
Call us at (800) 536-6564 to contact a storage adviser directly. We'll make sure you get in the storage unit of your choosing today.
Our Bronx storage facility has residential and commercial storage available now, contact us to find your storage solution right away.
When you apply online now, you can sign up to get your self storage first month free at Moishe's!  Why pay for the first month in full at another storage facility when you can get your first month on us?  It's part of our commitment to your 100% customer satisfaction.
At Moishe's, our service team is dedicated to providing you with the best customer-oriented service.  We are NYC's leading storage provider for over 30 years, because we offer the most affordable rates with the best security features of any storage company.
Come in today and see for yourself what makes Moishe's New York's premier storage provider.  We offer clean, affordable self storage units near me on the safest rent storage units in the city.
We also offer free pick up for your items when you live within the 5 NYC boroughs, up to a 5×10' space.  Why waste time and effort renting a truck yourself and loading and unloading possessions yourself when our movers will do the work for you for free?
Call (800) 536-6564 to schedule your free pick up today and our experienced NYC movers will drive one of our trucks to your location, pick up your storage items and store them for you at no extra cost!
Handling Your Self Storage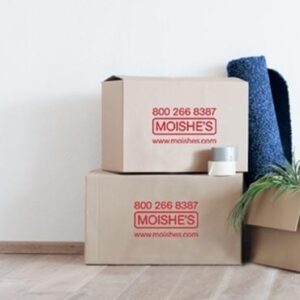 Our relocation experts are highly skilled at handling your bulky, heavy furniture items and transporting them for you into storage.  We assure your belongings will return to you in the same condition you trusted them to us in.  Can you get this service free of charge with other storage providers who offer self storage first month free?
A member of our security patrol staff is always present at Moishe's.
We utilize CCTV recording cameras in every hallway of our storage facilities to prevent theft.  Additionally, Moishe's uses state-of-the-art burglar alarms, the latest in fire suppression technology, motion detectors and security checkpoints to make sure your items stay safe.
When you need assistance, call on one of our security team members and they will be ready to help out, 24/7, whenever you are at one of our storage facilities.
Our customer service is excellent, and we stand behind our status as the NY tri-state's leading storage company since 1983.  When you need self storage first month free, call on Moishe's; we will even pick up your belongings in NYC and store them for you, at no extra cost to you.
Moishe's Self Storage First Month Free
Feel free to stop in at the Moishe's location near you today and ask about our self storage first month free.  Or schedule a consultation with one of our account managers and we will help you estimate the storage space size you'll need.
With over 20 different size options, including customizable space, you're sure to find the perfect fit for all your storage needs with Moishe's.