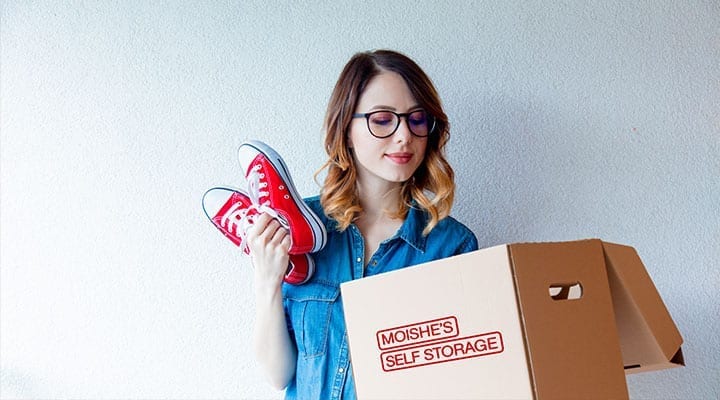 Best Self Storage in NYC
Our customers were, are and always will be our top priority. We are committed to serving them with the highest quality in a timely manner. Moishe's is dedicated to treating every customer with respect and professionalism. Listening to our clients and our employees so we can continue to provide the quality service our customers deserve is one of the most important aspects of our company. As you read below, you will see that our customers feel the same way about Moishe's.
"I thank you for making my experience here at Moishe's Self Storage a positive one."
– Luftmensch Books
"Dear Dimitri,
I wanted to thank you for your help with our latest shipment to Haiti. We were able to send $1.5 milion of medical and other aid to children affected by the earthquake, greatly because of your willingness to assist us with interim storage.
Your staff swiftly delivered 10 storage units to our collection location. These were used to store new clothing, medical supplies, sheets, tents, etc. until our shipping date.
The units were sturdy, waterproof and held thousands of boxes for us. Your staff was incredibly helpful and courteous.
Thank you again for your help.
All the best."
– Diane Eskenazi, Director, Peace Builders
"The staff has become like family to me. They are willing to accommodate their clientele to make sure they maintain a happy customer."
– Danielle Douglas, Pfizer
"The service at the Long Island City facility at Moishe's storage over the past two years has been exceptional."
– Rockstar Games
"Moishe's Moving moved me from my home in Denver to their mobile storage in the Bay Area.  I was a little confused at first.  I always thought mobile storage was a do it yourself sort of option.  Well, apparently it is, but Moishe's is a moving company, so help is available.
Once I had arranged for a place to live, I called Dimitri at Moishe's to give him the details and request a date for my things to be delivered.  He was very polite and he was able to arrange delivery for the date I requested.  He arranged that the storage units would arrive before the movers.
Everything went off without a hitch.  I was given a five hour window for the movers to arrive, and like with most windows, I expected them to arrive toward the end of it.  They were right on time, in the beginning of the time window!!!
The movers were quick.  They never complained.  They set up my bed and were almost obsessive about putting everything into its proper room!  The move went without a hitch.  Nothing was damaged.  Nothing was missing.  All in all, a perfect experience.
I would use Moishe's again and again!"
– Wendy G, San Pablo, CA
"Thank you very much for giving us the chance to be valued customers of Moishe's Self Storage."
– Monika & Szabolcs Hosko
"These guys are incredible! They were a pleasure to work with. I contacted several of their well-known competitors and found Moishe's to be the most responsive, professional and affordable option for my businesses' storage needs – their quote was about half of what other mobile storage companies were asking. I really can't say enough about them and will definitely be working with them moving forward for mobile, on-site and off-site storage. They're punctual and were willing to work with a very tight schedule. They're communication was great also. Definitely exceeded expectations!"
– Kevin W, San Francisco CA
"I needed a storage unit very fast and was able to get everything I needed from Moishes. They were fast and very helpful and did not try to "oversell" me on a certain size. Thank you for making everything so easy!"
– Jen, New York NY
"I was really impressed with this team and their service. I arranged for delivery of two portable storage containers with two days notice. The driver, Tim, was really great and stuck around for 3+ hours while the packing/moving crews loaded up the portable storage containers. That was well over an hour over what they'd said they'd do, and he offered to do it for free – just very, very kind folks. The flexibility that these portable storage containers offer is really great and definitely can help you plan very quickly even if you (like me) don't know exactly where the stuff will move next. Strongly recommended – and thanks again to Dimitri (last minute scheduling) and Tim (patience!)…"
– Susan.M, Oakland, CA
"I've used Moishe's Mobile twice now. They never fail to impress! The first time was when I moved to California. They stored my things for a few weeks. They delivered everything on time and in the same condition as when I last saw them.
The second time, I stored one piece of furniture with them. Again, perfect delivery.
The customer service is great. They always answer the phone. They are always polite and accommodating. I would recommend them to anyone."
– Review from Yellowpages.com
"Easy and Fast. Dimitri was always available on the phone. Pick up and delivery guy was skilled at getting the storage boxes where they needed to go. I would use them again."
– Catherine J., Oakland, CA
---
Contact Moishe's Self Storage if you're looking for cheap storage units in New York City to hold wine, art, or other things. Our Manhattan/The Bronx and Queens/Brooklyn Storage Facilities are conveniently located near you. We offer over 20 different storage unit sizes, available to individuals, students, and businesses. Reserve your room, view specials, or contact us.