Top 7 Household Items to Put in Storage as Winter Ends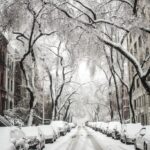 As winter departs with its final flurries of snow, with it goes the winter wardrobe, holiday decorations, outdoor gear, and the like—and in come the household items beneficial for spring. When it comes to decreasing clutter around your house and opening up space for the season ahead, many New Yorkers rely on self-storage units to house their extra seasonal items until the weather turns its way again. The transition of winter to spring can be a magical time of reawakening, evaluation, and planning for the months ahead. In this article, we will touch on the top seven household items to put away in your storage unit after winter ends!
Top 7 Stowable Items from Winter
Even if you consider yourself a homebody, you are likely to endure some kind of a shift in focus as the seasons change and the months wear by. Marked by chilly weather, wind, snow, sleet, and rain, winter can bring grey skies perfect for velvety soups and steaming mugs of hot chocolate; when it's gone, it's time to make room for summer with your annual spring cleaning! Here are the top wintertime household items you'll want to put away for spring:
1.     Holiday decorations: Whether you like to keep it simple or go all out with your holiday decorations, one thing is for certain—when the holiday is over, your themed décor goes out of style rather fast. When winter is over and you're done with your tree, menorah, or other holiday-related paraphernalia, it's time to stow those belongings (along with the good memories they incite) in storage until next year so you can have your living room back!
2.     Winter clothes: Does any type of clothing take up more room than a puffy winter jacket, snow pants, hats, scarves, and mittens? We think not. Fortunately, when you invest in a self-storage unit, you can stow your bulky wintertime outfits in a climate-controlled environment where they will be ready for you next year. Why not free up the closet space for lighter, warm-weather clothing?
3.     Snow boots and snowshoes: Any shoe required to walk in the snow is likely to be pretty durable. With durability often comes substantial heft, girth, and weight—so it's no wonder you'd want to find a spare room to place your snowshoes, ski boots, or any other type of snow-related foot protection.
4.     Skiing or other winter gear: Are you and your loved one into winter sports like skiing, snowboarding, ice climbing, cross-country, hiking, snow camping…etc? If you've ever hit the slopes you before, you know that the skis are just the tip of the iceberg in terms of what you'll need to grab from storage. Snow clothing, proper boots, and any outdoor gear related to a day in the powder (like a picnic basket, flask, or thermos) will surely come in handy next year—but not right now.
5.     Sleds, snowmobiles, quads, and other recreational equipment: For summertime, we have boats, and for wintertime, the sky's the limit in terms of what sort of transportation you may have utilized to get around—from the seasonal 4WD vehicles that you only take out of the garage once a year to get around in inclement weather to snowmobiles built for freshly-fallen snow.
6.     Generators and emergency storm preparedness materials: If you live in an area that is prone to wintry ice storms, it's probably prudent to have a backup plan in place should the power go out or any other type of emergency arise. Wintertime can bring heavy snow—and with it, all sorts of hazards, wind events, and generally poor conditions. If you reliably lose power in winter where you live, it's probably about time to invest in a generator and contingency plan in the event of an emergency!
7.     Puzzles, board games, and other indoor activities: Trips to the family cabin can confirm that every now and then, all you need is an opportunity to "unplug" with a crossword, sudoku, 3,000-piece puzzle, or board game in front of an open fireplace. If you brought any of your "introvert activities" out of "hiding" for the winter, as the snow thaws is the perfect time to look ahead to summer's warmth and how you will celebrate the reawakening of spring.
Moishe's Self Storage NYC Best Storage Facility
When it comes to adapting to the flow of life, we often have to make choices on what we choose to focus on. In winter, we can extract joy by utilizing the snow for our benefit—whether that be skiing, sledding, or having a simple snowball fight. However, as the weather changes, so must our focus—and gladly, spring comes into focus with its pastel colors and celebrations honoring emergence and resurrection.
If you're looking for the best storage facility in NYC for your winter gear, contact the team at Moishe's Self Storage today for more information on our available units and how we can serve you—and remember, we'll even tackle moving your stuff for you! Contact us today.