10×20 Storage Unit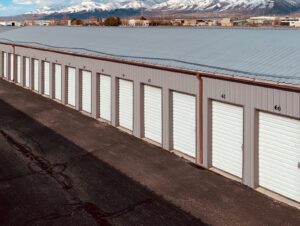 Is A 10×20 Storage Unit the Right Unit for You?
In  New York, self-storage is a great option to take into consideration whenever you find yourself needing additional room to hold some of your belongings. Choosing the unit size to rent is crucial when looking for the perfect unit for your needs. It could be easy to pick a tiny unit such as a 5'x5′ unit or the typical 10'x10′ unit, but this size might not be sufficient if you need to store the contents of a room or even an entire house.
If you are searching for a large storage unit in New York that can assist you in storing a significant amount of items, you might want to consider a 10'x20′ unit.  Read on to see if this is the right unit for you
Just HOW Big is a 10×20 Storage Unit?
A storage unit with dimensions of 10 feet wide by 20 feet long and a length of 10 feet provides approximately 200 square feet of floor space, making it one of the largest unit sizes. The height of the ceiling at a storage facility can vary. At Moishe's Self Storage, all of our units have an 8-foot ceiling, which provides a storage capacity of approximately 1,600 cubic feet. This indicates that you have a large amount of room available to you. Put as many of your belongings as you can into boxes and stack them to make the most of the vertical space in the unit. This will allow you to maximize the amount of room you have.
What Can You Store in a 10×20 Storage Unit?
It is possible to store the contents of four bedrooms or a fully packed one-car garage in a 10′ x 20′ storage container in New York.
Items like mattress sets, bed frames, dressers, and nightstands can be stored in a 10′ by 20′ space. In addition, you can include a sofa, loveseat, TV stand, dining table, patio set, refrigerator, and washer/dryer in the deal. A 10′ x 20′ unit is large enough to store a wide variety of sporting goods.
In addition to the furniture you'll need to store throughout transitions, you may also keep here other stuff like seasonal decorations and bulky clothing.
Common Uses for a  10X20 Unit
·        Moving– A 10′ x 20′ storage container is large enough to hold the contents of a three-bedroom home while its owners are in the process of relocating.
·        Remolding a Home – A 10'x20′ unit can save the day for any homeowner amid a significant renovation project or who is adding on to their home. While construction is underway, you would be able to store the majority of your items from a larger home in this size unit. The space where you plan to do all of your work will be freed up, and the possibly cluttered regions around your home will be reduced as a result. Another added benefit is with the furniture safely stored there is a less likely chance of damage or ruin.
·        Boat or Car Storage-  In New York, street space is valuable and limited. A typical car, or even a small boat, may be stored in a 10'x20′ space. If you own more than one car and don't want to leave one in the driveway or on the curb while you're on vacation, renting a climate-controlled 10'x20′ space is your best bet. If you enjoy fishing, a 10'x20′ unit is perfect for stowing away your fishing boat.
·        Business Space –A 10′ x 20′ storage unit is ideal for a business owner because of the space it provides for storing goods, office furniture, and other company necessities. This size is also convenient for construction companies that need to keep supplies and large equipment close to a job site.
FAQs About 10×20 Storage Unit 
How many boxes can fit in a 10×20 unit?
–  Typically, a unit can hold 15-20 large boxes
What is the best way to organize a 10×20 unit?
-It's vital to organize your unit properly no matter the size. The main reason is to help maximize your space but it's also helpful when you need to find or retrieve items in the unit. Stack boxes along the walls of the unit, creating an open space in the middle. Utilize shelving if possible for additional storage.
What furniture would fit into a 10×20 storage unit?
-With its spacious area, this unit will be able to fit the contents of four rooms and possibly more. Living room furniture, large appliances, and patio furniture will fit with ease
Why Choose Moishe's Self-Storage?
With over 30 years of experience, Moishe's has set the standard for moving and storage excellence. We've been around since the 1980s, so we know what real New Yorkers want. We've catered our services to meet the specific requirements of our customers by providing amenities such as a free pickup in all five boroughs of New York City and trucks that can easily navigate narrow city streets. Not only do we not use subcontractors, but each member of our team has undergone extensive training to ensure the highest quality of service. Please contact one of our storage professionals if the unit size you need is not listed on our website. Never settle for less than the best. For all of your commercial and residential storage requirements, rely on Moishe's.