It's no secret that apartments in New York City are small — sometimes very small. There are some important rules apartments have to follow according to New York City's building code:
a minimum of 80 square feet
a minimum width of 8 feet in any dimension
a minimum ceiling height of 8 feet
at least one window opening to a street, yard or other outdoor space (skylights may suffice in certain zoning districts)
two means of egress, or exit, either a window or door accessible from the inside without using keys or tools
the room cannot be used as a passage to another room.
No matter how small your room feels, it's at least 80 square feet of livable space. That, however, is very small. 
If you are lucky (or unfortunate) enough to live in space that size, we have a few helpful ways to make the most of that space in NYC:
---
1. Stack items high
View this post on Instagram
Similar to the skyline, stack things vertically. You have 8-feet-tall ceilings (in accordance with the building code) to work with. Purchase a tall shelf to hold candles, books, plants, or other things.
Use as much of the space leading to the ceiling as possible. Tennants forget about this space often.
2. Put things under the bed
View this post on Instagram
If you can tolerate sleeping on a high bed, then put it on stilts and put storage under it. Buy bed risers and place them at the four corners of the bed to give space underneath.
It's possible to put large, flat Tupperware containers under the bed — depending on the size of the bed.
3. Use double-duty items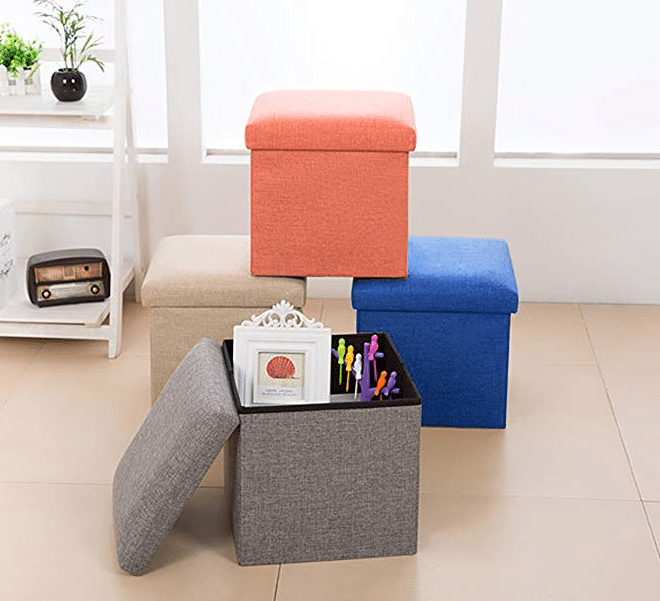 In a small apartment, you have to make the most of your space somehow. The most effective way is by having items that offer double duty. Here are a few examples:
4. Divide the room
View this post on Instagram
Divide the room to make it feel larger than it is. Who doesn't like more rooms? Separate it with a few of these ideas:
An entertainment center in the middle of the room
A divider to block off part of a room
A curtain to open or close the room
A bookshelf to divide the room
A large bed headboard to block part of the room
5. Declutter — less is more
View this post on Instagram
The best way to save space is by decluttering. Marie Kondo has six rules for tidying. She encourages you to ask, "Does it spark joy?" Living in a small apartment, space is limited, so the few items you own should make you happy.
Here are her six rules:
---
Contact Moishe's Self Storage if you're looking for cheap storage units in New York City to hold wine, art, or other things. Our Manhattan/The Bronx and Queens/Brooklyn Storage Facilities are conveniently located near you. We offer over 20 different storage unit sizes, available to individuals, students, and businesses. Reserve your room, view specials, or contact us.